5 Pieces of Fashion Jewelry Perfect for Socializing and Working in the Zoom Age
March 12th, 2021
Bring an unprecedented vibrance to your video calls with the perfect piece of fashion jewelry. Finding happiness in the little things is so important during this time. One way we can do that is to hold fast to our personal styles.
Now, we find ourselves gathering via video call for friendly hangouts, work meetings, volunteer projects, birthday celebrations, virtual happy hours, even upscale annual events. Top off your video call outfit with a pair of stunning earrings. Explore each style below and find out which piece of fashion jewelry is your best match!
Athleisure Chic
Athleisure: where comfort and style meet. Perhaps more truthfully, when you want to wear pajamas but you know it's just not socially acceptable (yet)! Elevate your athleisure look with geometric stud earrings.
The transfixing shapes of geometric studs highlight the metal from which it's crafted. This creates a distinctly modern look. Pair a navy, yale, and Carolina blue thin-striped athleisure outfit with these curved, mixed metal studs.
Polished Professional
Establish yourself amongst your colleagues with your professional prowess and polished pearls. Because pearl earrings are classic yet dynamic, it's difficult to miss with this jewelry staple. We suggest modest, classic pearl earrings with a twist for the Zoom Age.
Classic pearl earrings come in the stud design. Give this design a twist by choosing drop pearl earrings with diamond accents. Pair these earrings with a lattice trim, black button-down blouse.
Vogue Visionary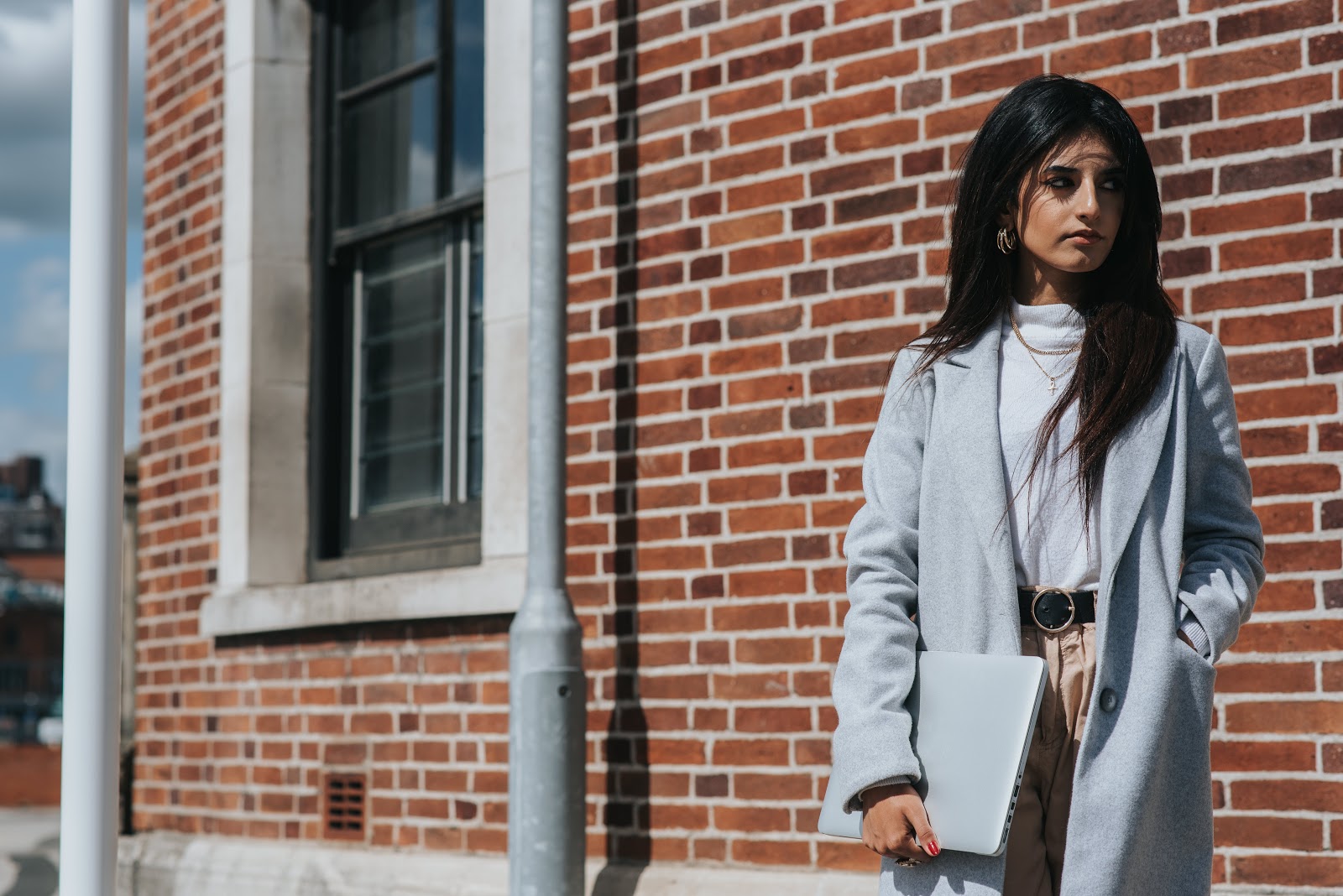 The trendsetter uses their charisma, knowledge, and their personal style to stay ahead of the curve and accessorize with jewelry that onlookers crave. Need some inspiration? Take a staple and reimagine it! We recommend the layered hoop look.
Vibrant yellow gold is warm, inviting, and complements all skin tones. Shop a set of layered hoops with smooth and textured designs. Wear alone or pair with other yellow gold hoops of varying sizes ascending your ear helix. Wear this look with a white dress, that highlights either square or boat neckline.
Inventive Designs
Perfect for the artist or designer, we suggest wild and colorful statement drop earrings. This style is expressive, charming, and might even inspire a promising brainstorm! Bend the rules to incorporate this style. Think colorful gemstones and warm metals, like yellow gold or rose gold.
Minimal Mode
The minimalist style is characterized by neutral tones and natural designs. Think truly subtle golds and sterling silver. Envision simple designs that feel effortlessly chic. Gemstones can be present but understated in appearance.
For a minimal and feminine mode, consider ear threaders. Ear threaders are modern and dynamic, perfect for work or play.
Discover Even More Trending Fashion Jewelry
Shop trending necklaces, earrings, bracelets, and fashion rings at Lewis Jewelers! Our successful store is built on integrity, thoughtful customer service, and quality products. We have served the Ann Arbor and Detroit regions for 100 years, helping each customer create beautiful memories. Lewis Jewelers is your diamond store.