YOUR ENGAGEMENT RING ADVENTURE AWAITS AT LEWIS JEWELERS.
There's nothing quite like getting engaged in Ann Arbor. And, as Lewis Jewelers is celebrating its 100th year in business in 2021, you could say we've played a big part in many engagement stories. In Ann Arbor, we are "Mitten State" proud. We love our U of M Wolverines, Zingerman's, and we all look forward to the Ohio State vs. U of M football game on the Saturday after Thanksgiving.
There is no doubt that Ann Arbor is a beloved jewel in the crown of Michigan, a city that loves to support all things local, and is most definitely one-of-a-kind. This also describes our jewelry store and how we feel about our customers. When you walk into Lewis Jewelers, we want you to feel a true personal connection. We know finding the person you want to spend the rest of your life with is a big deal. Finding the perfect engagement ring that will symbolize that love is going to be high on your list of must-haves.
At Lewis Jewelers, we strive to make either finding or creating the diamond ring of your dreams an experience you'll look forward to. It starts with us getting to know your likes, dislikes and your personal style. We have styles ranging from the classic to the trending - basically, every style you can imagine and then some. And, if you don't find it in our store, we can design it for you. We know the engagement ring decision is a big one. You may be a bit overwhelmed by it all, but we are here to help you navigate the waters with confidence, and take the time to help find what is right for you. That's the kind of service you'll find at our store. We're a family owned and operated business and proud residents of Ann Arbor, too.
Walk through our door. We guarantee the experience will be memorable and enjoyable. Because we're going to treat you like family. That's our promise.
So, let's begin the engagement ring adventure together!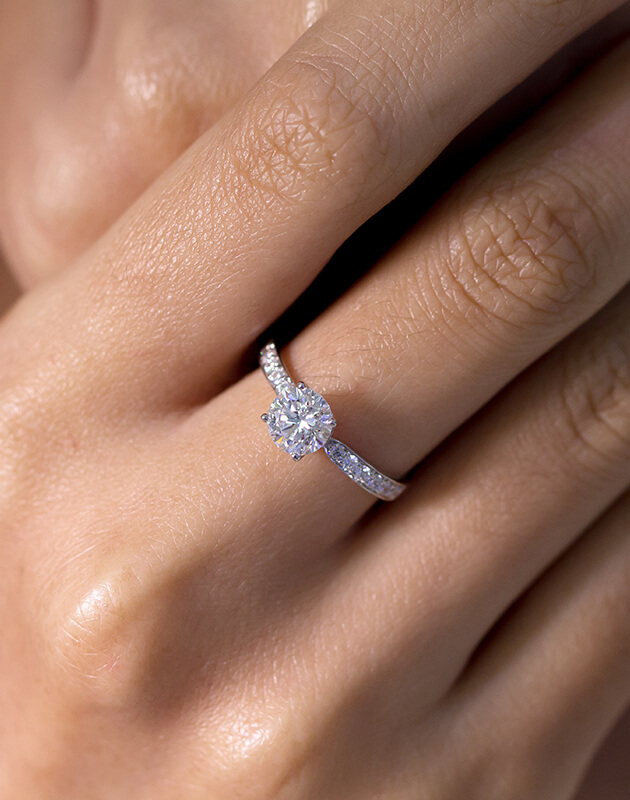 THE ENGAGEMENT RING PROCESS.
You may be thinking, "Wait, there's an engagement ring process?" With us, that answer is yes! So how does this process begin? There's no question, it all starts with style. Our question to you is, do you know your style? Do you know your preference for traditional, contemporary, or vintage looks? Do you lead an active lifestyle? Which precious metal is your favorite or the one you're drawn to? Do you have photos or a Pinterest board you can share with us? Your answers will be instrumental to finding an engagement ring that is right for you. Whether heavier and more durable platinum, or gold in its rich colors of yellow, white or rose, we have hundreds of rings to choose from.
BUY WITH CONFIDENCE.
Purchasing a diamond engagement ring is one of the most important and significant purchases you will make in your lifetime. It will be the one piece of jewelry worn every single day! So, it stands to reason that it's important to purchase it from a jeweler you can trust. At Lewis Jewelers, you'll find a team of non-commissioned professionals with impressive credentials from GIA Graduate Gemologists, to an AGS Certified Gemologist Appraiser to our Goldsmiths and Diamond Setters. It's important to tell you this, because not every jeweler is so stringent about the type of diamonds they will show or sell you. Buying a diamond and an engagement ring can certainly be a daunting task. You're in good hands with us, though, because you've found a jewelry store that will make the process easy and is one you can trust! Browse Engagement Rings here.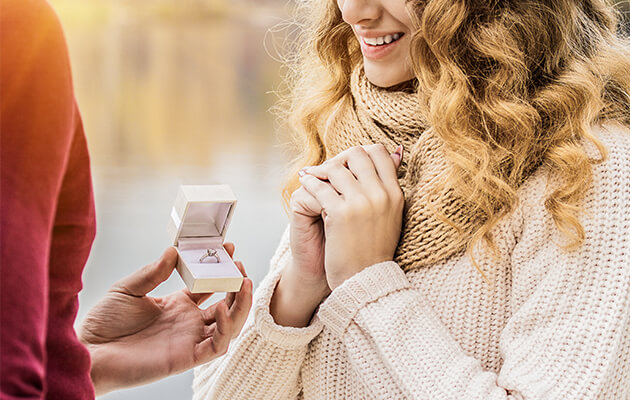 DESIGNERS
When you walk into our store, you're going to notice we're a little different. We think that's a great thing! We represent a long list of engagement ring designers known for their incredible reputation in the industry and impeccable quality. We prefer to work a little differently than many retail jewelers, though. For example, if you want a special diamond, as diamond advisors, we can talk about the many ways we can help you select one of your dreams. You can begin your search here, or you can let us know what you're looking for and we'll find it for you. Otherwise, you can select from dozens of engagement rings, complete with center diamonds, in our cases or elect to have a one of a kind ring designed. If you have something specific in mind, well, you've come to the right place. We specialize in custom design. Looking for something made exclusively for you and you alone? Let's start that process. We are hands on and want to get to know you.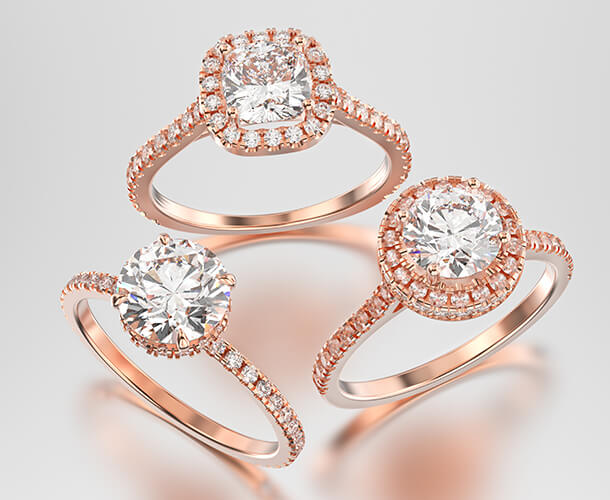 CUSTOM ENGAGEMENT RINGS - CREATIVITY IN PROGRESS
THE ONLY LIMIT IS YOUR IMAGINATION.
If there's one thing you should know about Lewis Jewelers, it's that we are the destination for all things pertaining to custom design. And, engagement rings are no exception. Yes, you can find some pretty unique settings right in our showcase. But, if you are looking to create something truly one of a kind, you've come to the right jewelry store! We can confidently tell you that a custom design is not necessarily more expensive than choosing a ring that's in our case and ready to be worn. And, it's not as complicated as you think, either. We have many years of experience, and we're going to guide you through the process step by step. If you believe your love is like no other, then consider celebrating it with a ring like no other!
THE CUSTOM JEWELRY PROCESS
OUR INITIAL MEETING WITH YOU
Step One: Meet with one of our design specialists to start talking about your style and vision. At this meeting, you should bring anything from your family gemstones you would like to include in your design to pictures of rings you have seen for inspiration. We'll collaborate with you and will help you develop your design to make it uniquely yours. Let us know the size and shape of the diamond that appeals to you and the budget you have in mind.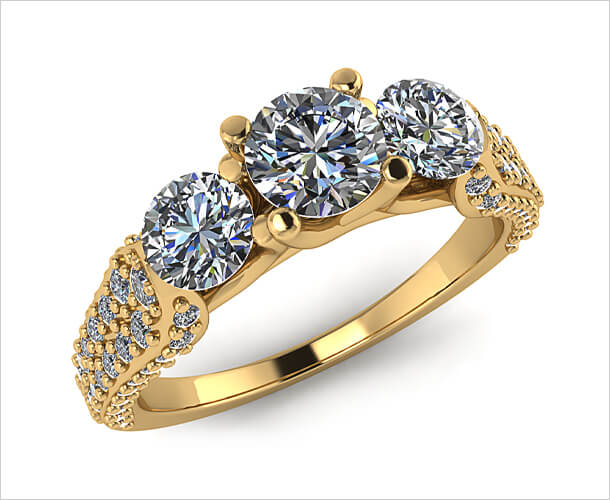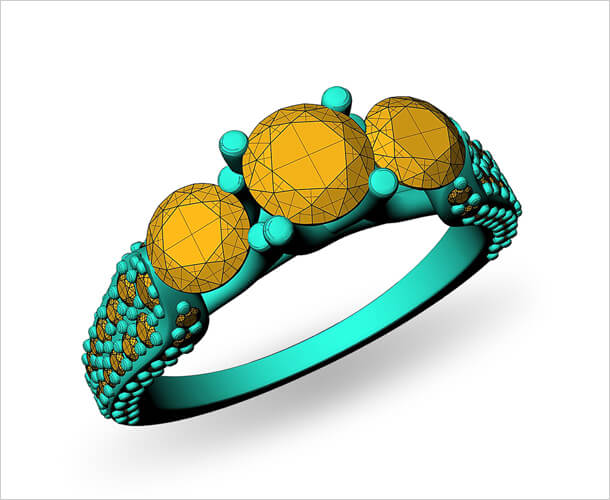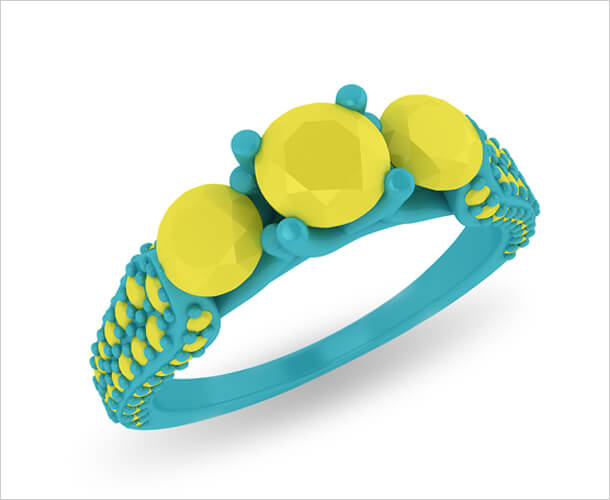 THE OPTION OF A CAD
Once you and your Lewis Jewelers design specialist have agreed on the rendering, the process of developing a CAD begins. The CAD technology analyzes and modifies your design, shape, detail and texture. Adjustments are possible and any changes should be decided upon and made during this stage.
THE WAX
A wax model allows you to see and feel your creation before the design is cast in the precious metal that is right for you. From this point, it only takes a few short days before your design is ready for you to enjoy and share with the world. Looking to get the process started? Send us a note and let's begin!
COLORED STONE ENGAGEMENT RINGS
TIME TO MAKE A STATEMENT.
If you haven't noticed, colored gemstones in engagement rings have made a huge comeback. Precious gemstones like sapphires, rubies, and emeralds express individuality and are a departure from the ordinary. Many fashion-savvy brides are opting for fancy colored diamonds ranging from white and the soft browns of champagne to vivid yellows, pinks and many other hues—all of which are rare and beautiful. There are also stunning sapphires, most known for their vivid blues, but available in an array of colors. Some say the trend re-emerged with Princess Diana and her blue sapphire engagement ring. Kate Middleton continued that tradition. In any case, making your statement in color could be an exciting alternative to a traditional white diamond. Want to know more about colored gemstones? Check out this page of our website to learn more!
METALS
IT'S ALL ABOUT WHAT FITS YOUR PERSONAL NEEDS.
There are many options in the world of precious and non-precious metals. In many cases, it will come down to the "look" you want and what is best for your lifestyle. Do you lead an active lifestyle and want to wear your engagement ring at all times? Then you need a durable metal. Is your skin sensitive? Platinum might be the perfect choice for you since it's hypoallergenic.
At Lewis Jewelers, we cast in yellow and white gold, platinum, and sterling silver. Although we do not offer engagement ring designs in alternative metals, we are happy to locate them for you. Here's a little information on the most popular metals to help you get started.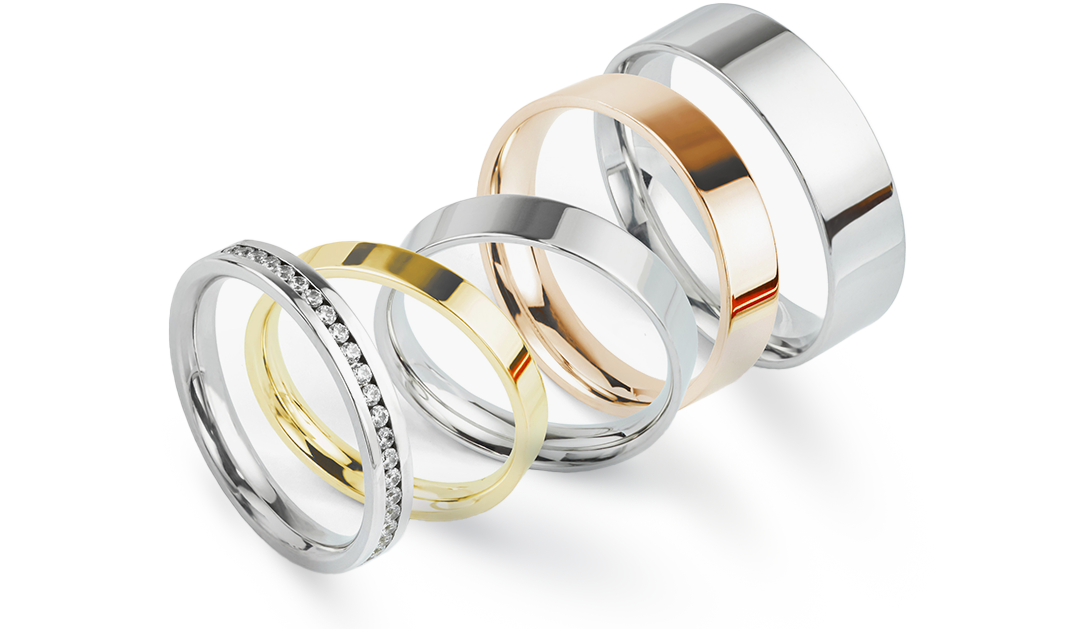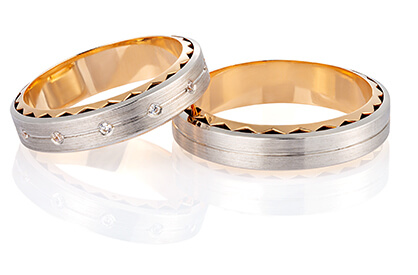 GOLD
There are various grades of gold purity from 10K, 14K, 18K and 24K (considered pure gold). 18K gold is made up of 75% gold and 25% other metals. As the karat weight drops, the metal becomes more durable, but less yellow. Lower karat weights are usually plated to some degree to enhance the color. Gold is the most popular metal in the US and has the longest and most storied history of all the precious metals. In order to increase its durability, it is typically mixed with other metals. Yellow gold is natural and resistant to rust, tarnish and corrosion. Gold is timeless, elegant and the most popular metal for everyday wear.
White Gold was developed to give a different look. It is made with similar properties to yellow gold but is mixed with different metals to give it a white color – typically with rhodium (a rare member of the platinum family). Rhodium plated rings will wear and eventually need re-plating.
Rose Gold is made with similar properties but is mixed with copper to give it that rose color. Rose Gold engagement ring styles or the use of Rose Gold with White Gold is a very popular look today!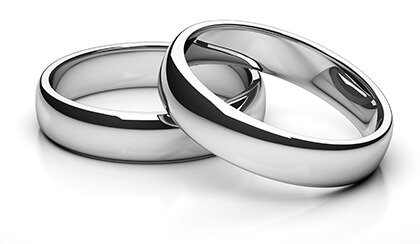 PLATINUM
Platinum is one of the most popular metals for engagement rings and wedding bands. It's naturally white and will never fade or change color. It is also durable and hypoallergenic. People love to purchase Platinum because it will last forever and is the ultimate symbol of everlasting love!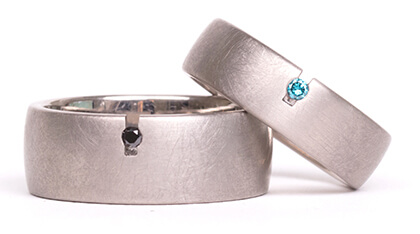 PALLADIUM
Palladium is one of the rarest metals in the world and part of the Platinum Group of Metals. Hypoallergenic, Palladium is extremely light in weight and is considered a "Noble Metal" due to its superior ability to withstand corrosion and oxidation.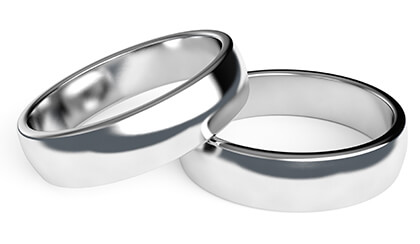 STERLING SILVER
Not usually used for engagement ring settings, Sterling Silver is primarily used for fashion jewelry and accessories. It is a very soft metal and tends to tarnish, which are two big reasons we don't typically recommend it for holding a precious diamond or colored gemstone for your engagement ring. However, it is a very affordable alternative to White Gold or Platinum.
ALTERNATIVE METALS
Alternative metals are often a choice for men's wedding bands or widely used as a back-up band to the traditional Gold or Platinum band.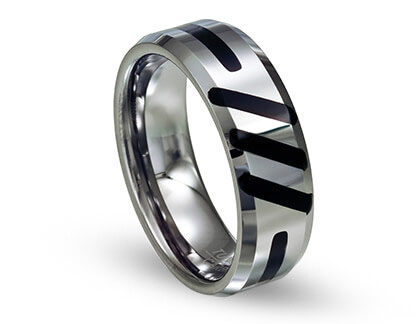 TUNGSTEN CARBIDE
Tungsten Carbide is unique and strong in design, and a forged metal that will last a lifetime. It is created from an alloy of 80% Tungsten and 20% Carbon alloy with other metals.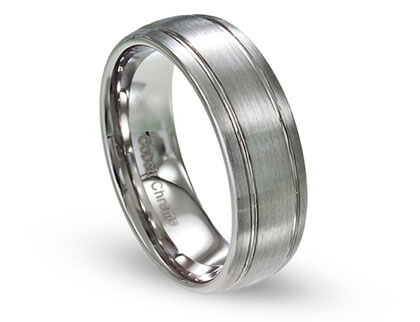 COBALT
Cobalt is four times harder than Platinum, while at the same time, far less dense. Because of its natural hardness, it resists scratches, chips and corrosion. Cobalt is also hypoallergenic, so it's a great choice for men with sensitive skin and an active lifestyle. Many men choose Platinum and have a second Cobalt band to wear more casually.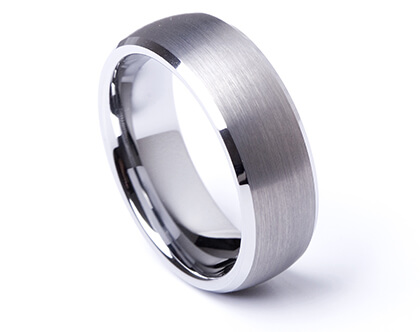 TITANIUM
Titanium is extremely lightweight, yet strong, and has a silvery-white metal color. It is 45% lighter in weight than Platinum. It is also hypoallergenic and commonly used in men's fashion jewelry.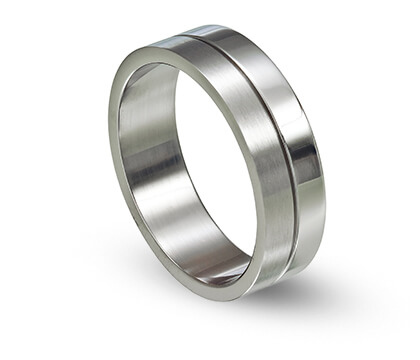 STAINLESS STEEL
Stainless Steel is a metal that is easy to clean, highly durable and resistant to scratches and corrosion. It has a beautiful silvery-white color and retains that shine and color very well. It is most commonly used in men's jewelry and watches.
WHAT'S TRENDING.
Engagement rings come in all sizes, shapes, and settings. And, you should always choose an engagement ring that speaks to you, whether or not it's on-trend. As we know, trends do come and go over the years. Today, these following styles and diamond shapes appear to be making a resurgence.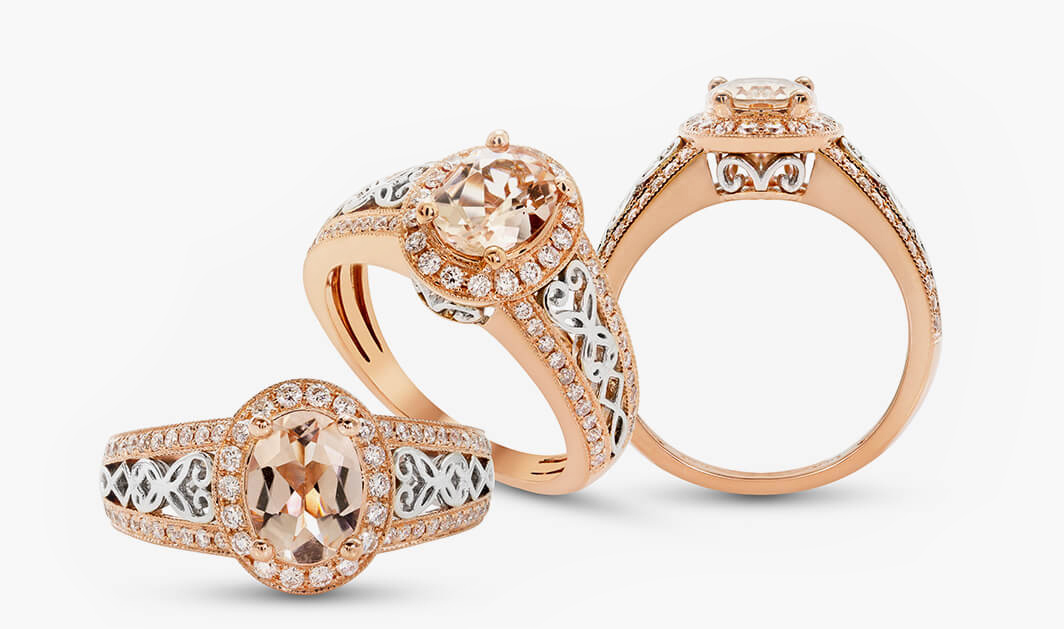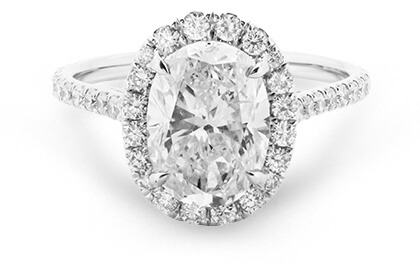 OVAL CUT DIAMONDS
We love round diamonds and they are by far the most brilliant. But oval diamonds are back in style and we love that they are. They have a flattering shape and can be worn both vertically and horizontally for a completely different look. They also have a vintage vibe, especially when paired with a simple band.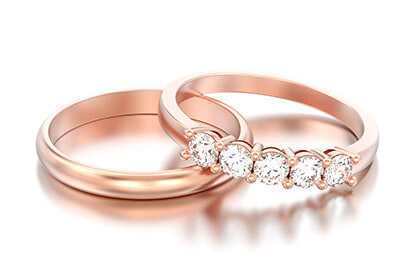 ROSE GOLD
Gold is by far the most popular precious metal in the US, but there's something about rose gold that makes for a perfect setting. We especially love it when it's mixed with yellow or white gold for a very unique look. It's been trending for a few years now and is showing no signs of losing ground. Feminine and flattering, rose gold is romantic and becoming more common in many of our engagement ring lines.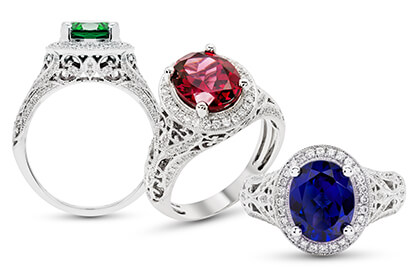 COLORED GEMSTONES
We've been talking about it for a few years, ever since the Princess of Wales flashed her blue sapphire engagement ring! If you're looking for a pop of color, you'll be happy to hear that engagement rings featuring colored gemstones are totally in vogue. From subtle to striking, colored gemstones are sure to be a standout choice to switch up a classic engagement ring.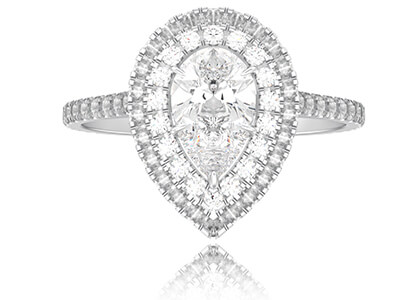 PEAR-CUT STYLES
Very big in the 1970s and making a quick comeback, pear-shaped diamonds and other gemstones in mixed metals scream modern and fashion-forward, especially when paired with rose gold or stunning halo settings.
STACKABLES
Think one band won't do? Then consider the newest trend: Stackable wedding bands. Look for these bands to complement nicely with "tiara" style bands that form half-halos around center stones. Hint: adding a different stack every year also makes this trend the perfect anniversary gift!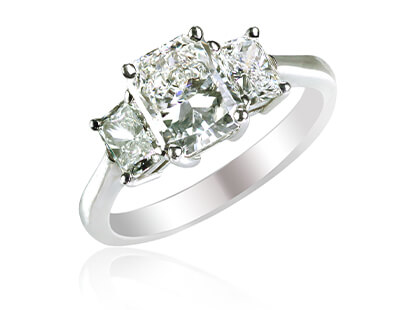 3-STONE RINGS
Ever since Prince Harry and Meghan Markle announced their engagement, this trend has seen a resurgence in popularity. Not new, (remember diamonds for your past, present and future?) you can choose three similar size diamonds, or one larger diamond with two-smaller diamonds flanking each side. After all, why have one diamond when you can have three?
SPLIT SHANKS
A split shank band looks stunning on any finger. What is it? It's two bands running parallel to each other with a gemstone separating them. This style is both dramatic and classic. Your center diamond will look like it's suspended while it sparkles.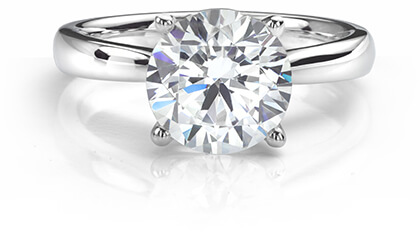 MINIMALIST ROUND
Classic and will most likely be on-trend for quite some time, a simple band featuring a beautiful round diamond is for the bride-to-be who wants a style that's pretty and not over the top.
LAB GROWN DIAMONDS Q&A
WHAT YOU NEED TO KNOW.
You may have seen lab grown diamonds in the press. And, it's important to understand the differences between purchasing a diamond created in a lab versus a natural diamond produced by Mother Nature. Explore our lab-grown diamond offerings here.
Want more education on lab grown diamonds? Visit this page.
WEDDING BANDS
THE ULTIMATE EXPRESSION OF LOVE.
The wedding band is a symbol dating back 5,000 years to ancient Egypt when a couple exchanged 'rings of love' made of woven reeds or leather. Customs have changed a bit over the years, but the symbolism that wedding bands represent remains the same; love and commitment to one another. Many women choose a wedding band that matches their engagement ring, while others select or create a band that is unique or stand-alone. Traditional metals of gold and platinum remain the most popular for men, yet contemporary metals such as tungsten, stainless steel or titanium are other options. Whatever your taste – and budget – you can be sure to find a wedding band that's a true expression of your love for each other.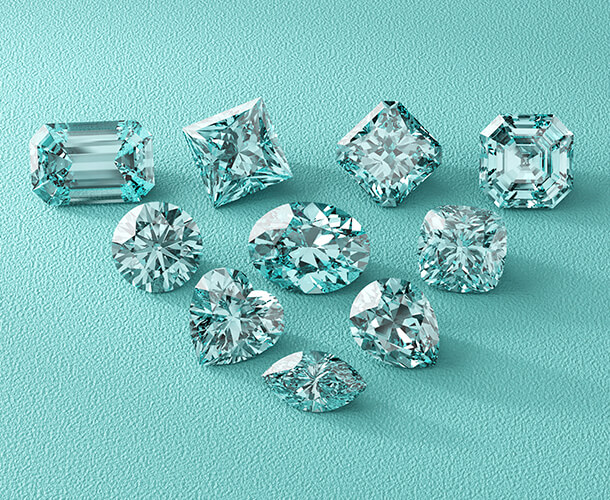 FIND YOUR DIAMOND
START YOUR JOURNEY.
We're glad you're starting your journey with us. And on our website, you'll find several diamonds that will fit your style and your budget. But, don't simply search our diamonds. Select a few you love and then stop in our store. A diamond is truly something you need to see in person. And, we promise to make this easy and comfortable. So go ahead and start with searching our inventory online and then feel free to contact us with any questions. We're here to help. There are hundreds of loose diamonds, available to you, that can fit any style of engagement ring setting, and, most importantly, any budget. Start now to find the diamond of your dreams!
FINANCING
>We accept major credit cards for payment of your engagement rings, but if you prefer to finance your purchase, we have payment options you can bank on. At Lewis Jewelers, we've made it as easy as falling in love. Click here to check out our easy financing options and to contact us for more information.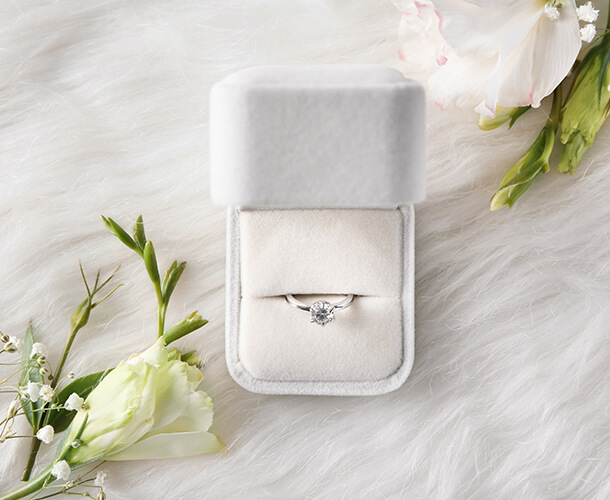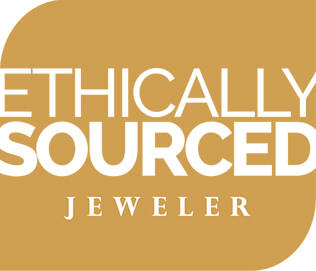 It's important how and where it's mined.
At Lewis Jewelers, our commitment to community extends beyond our local neighborhoods to the world stage. The diamonds we sell are guaranteed to be conflict free, which means no one has been compromised or hurt in any way in the acquisition of the diamonds. Many jewelry organizations and more than 75 countries have agreed to the Kimberley Process – a certification that requires each shipment of rough diamonds to be secured in a tamper-resistant container and accompanied by a government-validated certificate. Any country declining to participate is barred from the international diamond trade. And, we're proud to support these initiatives.