Chunky Hoop Earrings: The Jewelry Trend that Will Rule 2019 Fashion
October 7th, 2018
Move over pendant earrings! The trend to watch in 2019 will be for heavier statement pieces that put a modern twist on the classic hoop. From diamond studded to highly textured to a range of unusual shapes, there are trendy hoop earrings for every look.
Chunky Hoop Earrings: How to Wear the Look
The best thing about this new trend is how understated it is. You can take a look from merely classic to contemporary and trendy just by switching out your plain hoops for something a little more special. It's a trend that works equally well for professional daytime looks and dressing up for a night on the town. Just look at these examples!
A Little Razzle Dazzle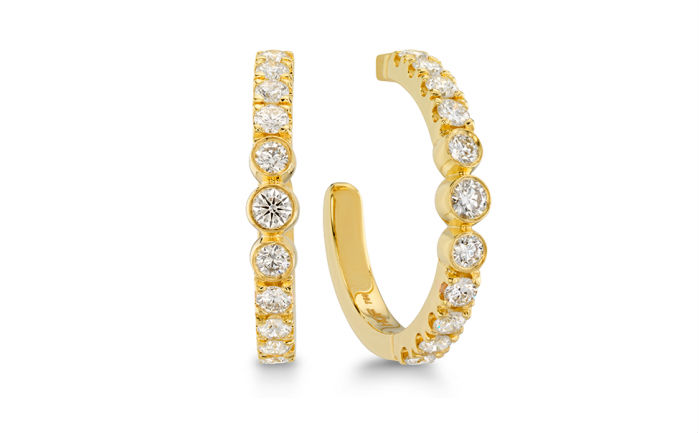 Add a little sparkle to your look with Hearts On Fire earrings. Each yellow gold hoop features eleven stunning diamonds in a mix of bezel and prong settings to best showcase their inner fire. Understated enough for everyday wear, they nonetheless make an effortless transition to evening statement piece. Show them off with an upswept hairstyle and your favorite little black dress!
Anything but Plain Jane
You'd never guess how big an impact these gorgeously understated earrings are! With yellow gold finished with a matte shine, the Marco Bicego Murano Gold earrings have an updated retro feel. The rectangular shape and open design can elicit a whole range of vintage aesthetics depending on how you style them.
Go 60s mod and wear these earrings with a shift dress and flats. For a special occasion, dress them up to an Art Deco vibe by pairing them with metallic geometric prints. The perfect wardrobe chameleon, this is one earring that will compliment almost every style.
What Goes Around Comes Around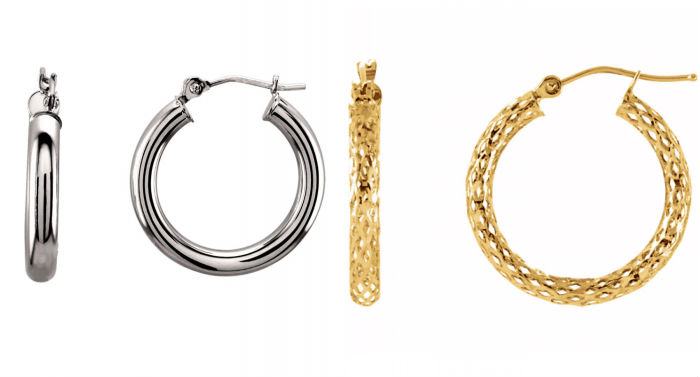 If you're not quite ready for a big shift in your look, but still want a trendy piece or two, stick with a classic round hoop with just a bit of a twist. Gleaming white gold hoops by Stuller look like your classic hoop with "bold" turned on. The high polish finish and sleek curves keep them from looking heavy, while the tubular shape gives them that special something that makes them perfectly trendy.
Prefer something with a bit more texture? Check out Stuller's delicate yellow gold lattice hoops. The pierced gold gives them so much sparkle you'll have a hard time believing they're not covered with tiny pave diamonds!
Fiercely Fashionable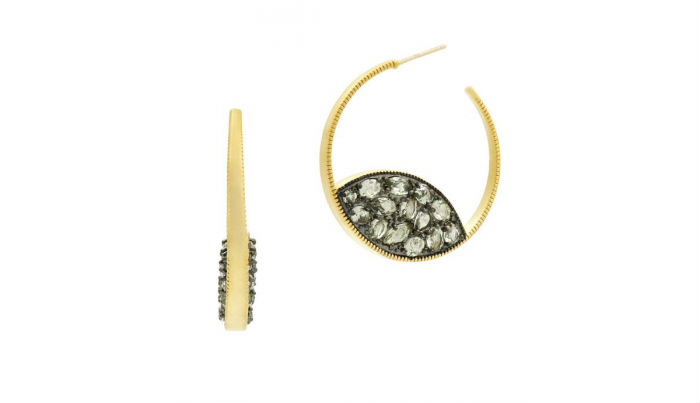 Sometimes you just want your accessories to make a statement, while still being on-trend, of course! When you need a piece of jewelry with definite "wow" factor. Round hoops plated in yellow gold showcase a double-sided, black gold plated panel set with cubic zirconia. The sparkling white stones and rich black setting give the panel the look of a gleaming agate slice, glittering with inner colors and reflections. They're the perfect statement piece for a special occasion, from a black-tie gala to a night out dancing!
Finding the Perfect Pair of Hoops at Lewis Jewelers
No matter what your personal style, there are chunky hoop earrings that can get your wardrobe ready for the new year. Ready to add the must have jewelry accessory to your ensemble? Contact us at Lewis Jewelers to get started!