Discover Delicate Engagement Rings That Offer Big Style With Subtle Details
August 15th, 2021
It is no secret that there is a quiet beauty in simplicity. Brides-to-be who are in the know understand that just because you can add every detail imaginable to a ring, doesn?t mean that you should. While intricately designed rings are a match for some, others relish in the idea that less is more.
Today?s top designers are embracing this motto to create delicate engagement rings that are simple, elegant, and perfect for the woman whose style is chic and sophisticated. With soft details, understated silhouettes, and delicately balanced combinations of design elements, our guide to delicate engagement rings offers stunning examples of simply elegant rings to consider.
The Subtle Beauty of the Hidden Halo
Hidden halo engagement rings prominently display beautiful center stones with a collar of accent diamonds tucked away underneath. This row of diamonds, known as the hidden halo or under halo, is only visible from the side, giving the appearance of an elegant solitaire when viewed from above.

With so much dazzle and beauty, there is little need for added embellishments to draw attention to the ring. Michael M, the king of European sophistication, creates beautiful hidden halo engagement rings that embrace timeless elegance. This rose gold hidden halo with an oval cut diamond is an exquisite example of the effortless beauty of this style.
Gallery Work Elevates Solitaire Styles With Ease
A classic solitaire ring is the epitome of minimalist charm. Traditionally designed with an unadorned polished band and a large center stone, solitaires have been transformed by modern designers to include a vast array of details hidden in the gallery of the ring beneath the center stone.

TACORI is a brand known for incorporating intricate gallery work, such as this beautiful Simply TACORI engagement ring. Delicate diamonds flow down the prongs, elevating the center stone in a cathedral setting. This design offers incredible attention to detail, a hallmark of TACORI.
Embrace Twist Bands the Sculptural Solitaires
Solitaire engagement rings enjoy a certain level of elegance that puts them in a class of their own, but the addition of sculptural details elevates them without detracting from their minimalist nature. A twisted band forms an infinity silhouette that adds a touch of symbolism to a delicate ring style.

Characterized by a shank that splits to twist leading to the center stone, such as this beautiful ring from Gabriel & Co., this design marries form and simplicity for a stunning engagement ring. This style is ideal for the woman who wants a solitaire design that stands out from the crowd.
Sharpen Your Gaze to Knife-Edge Shanks
A knife-edge shank is a clever design technique that creates the illusion of a larger center stone. With this design, the shank is crafted with a sharp outer edge that seemingly divides the shank in two, with both parts meeting at the culmination of the center stone.

In addition to altering the appearance of the center stone, it also makes the band appear leaner and refined, resulting in a modern, striking design. The angles of this ring offer a striking silhouette, which can be seen in this knife-edge solitaire ring from Gabriel & Co.
The Romance of Filigree
While excessive filigree can detract from the delicacy of an engagement ring, subtle filigree details bring an enchanting sense of romance to any style.
Peter Storm designs beautiful solitaires with subtle split shanks embellished with intricate filigree that frames the center diamond. Visible from the top and the side, this detailing creates a beautiful look that allows tendrils of light to infiltrate the stone, adding additional sparkle. In this beautiful example of a solitaire accentuated with filigree-filled shanks, milgrain edging adds a final touch to this delicate engagement ring.
Delicate Silhouettes Mean Delicate Beauty
If you are looking for a delicate engagement ring that is embellished with a touch more diamonds, a thin double band ring creates a beautiful silhouette that is timeless and classic.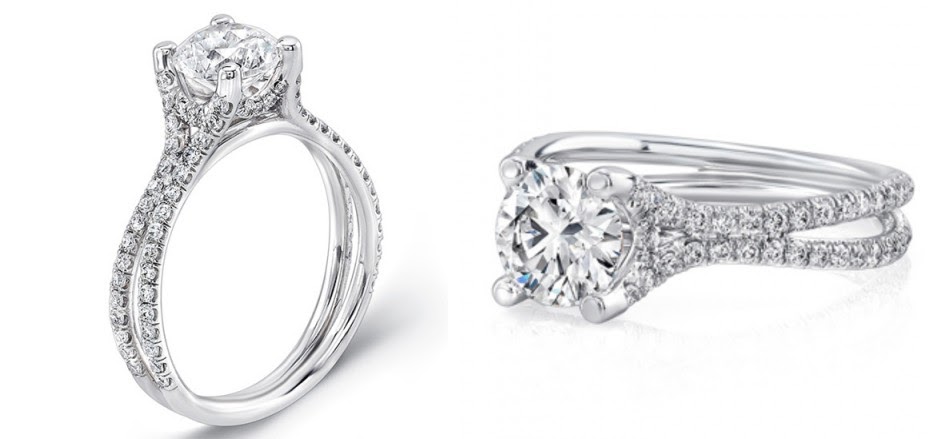 Two bands joined together to uplift a stunning center stone is a favorite artistic choice for some designers, especially Uneek. Consider this captivating silhouette from this talented designer. The style is refined in its elegance with two bands lined with pave-set stones that come together at the bottom and top and separate in between as the band wraps gracefully around the finger.
Let Lewis Jewelers Help You Find a Delicate Engagement Ring
Whether you are ready to propose or just starting to explore the world of engagement rings, be sure to visit Lewis Jewelers in Ann Arbor to discover breathtaking designs. Our team of jewelry advisors can help you determine what style will best suit your loved one?s tastes while working within your personal budget.

We proudly feature the talented designers showcased here along with many more, such as ArtCarved and Hearts on Fire. If our world-class designers don?t offer the ring of her dreams, we will be happy to help you create your very own design with our custom jewelry design service. Call or text us at 734-994-5111 for more information or to schedule an appointment for your personalized consultation today.