Lashbrook: The Brand Taking Wedding Band Designs to New Heights
June 1st, 2019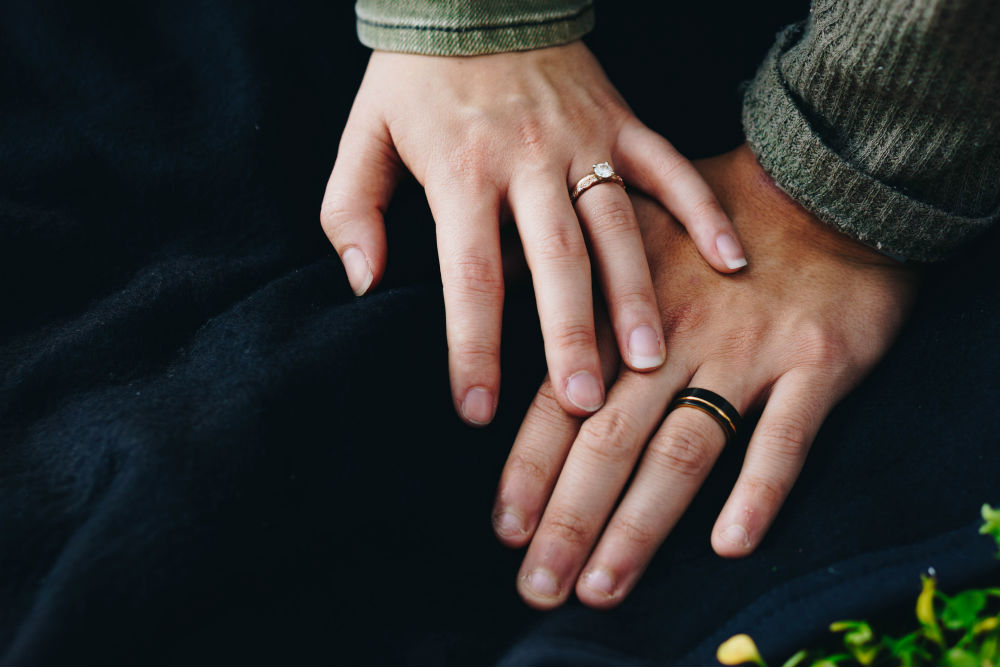 The creative designs from Utah-based designer Lashbrook transcend traditional ideas of what a wedding band should look like. Beyond the expected uses of gold and silver, Lashbrook utilizes materials like hardwoods, meteorites, and carbon fiber to make masculine bands whose natural elegance adds flashes of gold and diamond to accentuate their designs.
Here at Lewis Jewelers, we?re pleased to be able to offer Lashbrook wedding bands to our customers, and if you?ve never heard of this incomparable atelier, we want to turn the spotlight on them with this guide to some of the wildest collections that the brand has to offer.
The Meteorite Collection
Lashbrook sources its meteorite from the Gibeon Meteorite, which fell to Earth in prehistory. The rare meteorite, composed of iron and nickel, cooled in space over millions of years, giving it a shocking, snowflake pattern. These distinctive markings can easily be seen in Gibeon Meteorite, and Lashbrook uses this amazing metal in the Meteorite collection.
When this unmistakable pattern is accentuated with gold or added to a diamond wedding band, the contrast is something worthy of admiration. The man who really wants something different, though, can toss gold aside entirely with a Lashbrook band made of oil-glistening black zirconium with an inlay of Widmanst?tten-patterned meteorite alloy.
The Hardwood Collection
Had you ever heard of a hardwood wedding band before? Neither had we before Lashbrook. One of the most amazing collections for the man who lives his life in nature, the Hardwood Collection doesn?t settle for one or two different wood inlays—Lashbrook offers 15 different hardwoods for your men?s wedding band.
Ranging from the sunshine color of Osage orange to the brilliant scarlet of red heart to the black-and-white contrast of spalted tamarind, the man who adores ethically sourced wood inlay will love this collection. When paired with features like hammered 14k yellow or rose gold and Damascus steel, ?amazing? crosses over into ?absolutely perfect.?
The Cerakote Collection
The Cerakote collection is ideal for the man who works with his hands or appreciates some high technology in his wedding band. Cerakote is a ceramic-based finish that makes the treated product extremely durable, hard, and corrosion-resistant. When applied to wedding bands, this process also adds a cool matte tone.
Because the Cerakote can be designed in dozens of different colors, your imagination can go wild. Do you want an electric green layer of Cerakote to pair with 14k rose gold? Or royal purple and Damascus steel? Lashbrook is ready and willing to provide.
The Carbon Fiber Collection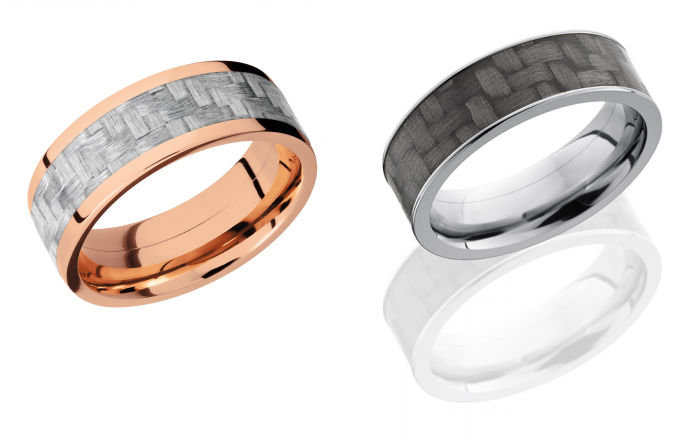 You?ve almost certainly heard about carbon fiber. This cutting-edge material is remarkably light, flexible, and stronger than steel. While it?s used primarily for equipment and aeronautical purposes, the husband-to-be may appreciate those same qualities (and the visual cool of interlaced black fibers) in the Carbon Fiber collection bands from Lashbrook.
While the majority of the wedding bands in this collection are paired with black materials like zirconium, there?s a surprising elegance in adding a black diamond and carbon fiber inlay to the blush of a 14k rose gold band. For an extra bit of strength and durability, check out the pieces in this collection that use titanium as the metal for the band.
If you?re a groom-to-be interested in what Lashbrook has to offer, get in contact with us here at Lewis Jewelers at (734) 994-5111 or visit our Ann Arbor, Michigan showroom today!