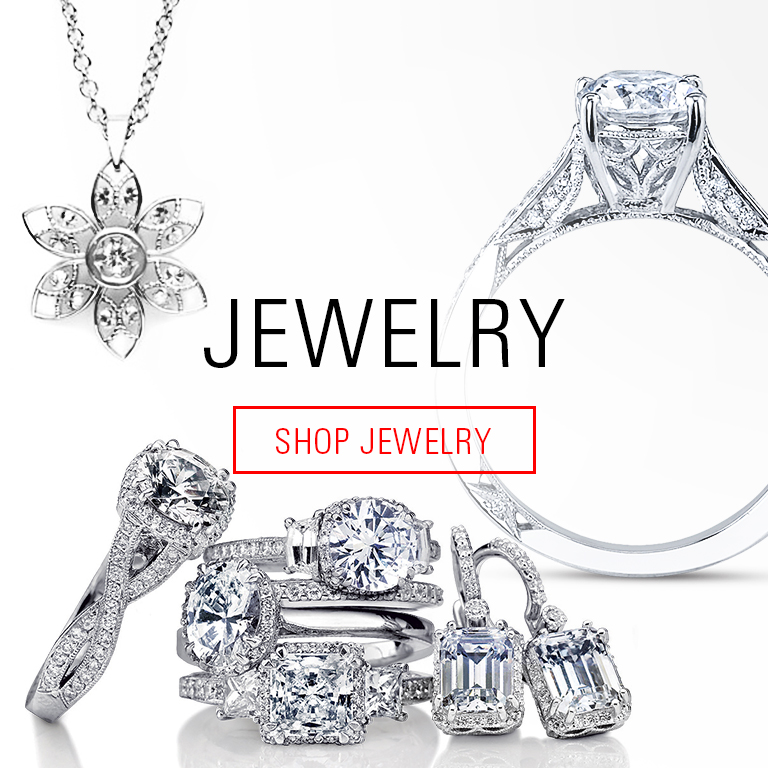 Fashion Forward.
Ann Arbor may be small, but it's a food and culture mecca. Our city is filled with history, with a bent for environmentalism, but it's also home to plenty of diverse, fashion-forward individuals. To reflect our population, you can count on Lewis Jewelers to consistently follow the trends of fashion and fine jewelry from around the world. We can sum up in three words what our local customers are looking for in their fine jewelry: Luxuriously Attainable Style. These words are the cornerstone of how we think of our store and how we strive to meet your lifestyle needs. At Lewis Jewelers, we think of jewelry as a way to mirror your style and your everyday life. It should be classic yet unique; chic, but comfortable; have great style, but still be fit for any occasion. It needs to have exceptional quality that is second to none. If you appreciate fine jewelry, you have found the perfect place to shop. Why wait? Although you are always welcome in our store, our website is ready for you 24/7 so you can browse and buy to your heart's content, or visit our Stadium Boulevard store at your convenience. Browse now!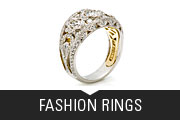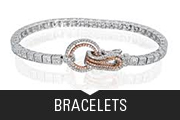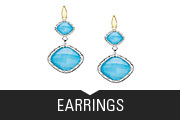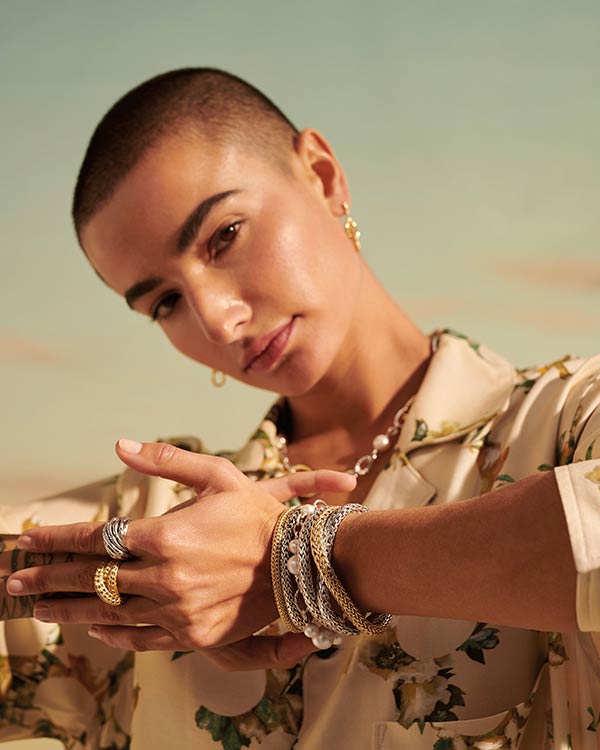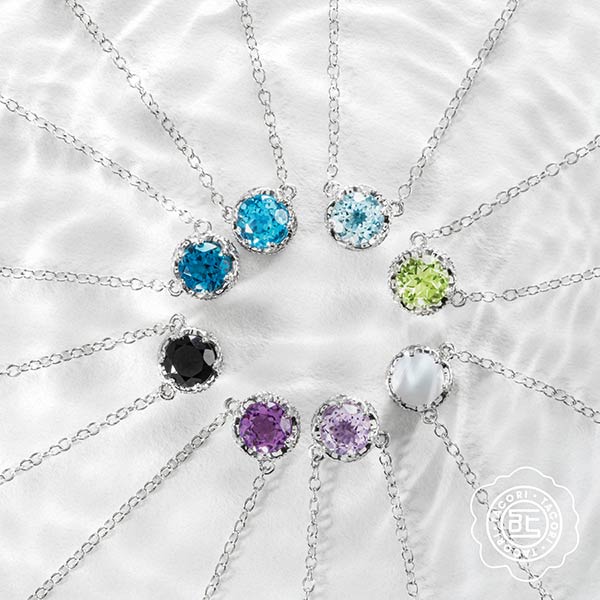 Live Life Colorfully
Diamonds may be our first love, a close second is our colored gemstones. They have played an important role in the myths and legends of history. We are enthralled by their storied past, which you can see in our fashion collections by designers such as Tacori, Gurhan, and Marco Bicego, among others. Many colored gemstones have been treasured since the beginning of time, while others have only been discovered in recent history. From rings and pendants to bracelets and earrings, if you can't find a colored gemstone (or more!) you love at Lewis Jewelers, we'll search the world to find one for you. Looking for more information on colored gemstones? You can find it here. here.
Always a Classic.
Fine diamond jewelry remains the cornerstone of the jewelry industry. In fact, according to a study in November of 2019, Americans spent $36 billion on diamond jewelry! Famously stated, "diamonds are a girl's best friend." At Lewis Jewelers, you can explore our vast collection of this most popular fine jewelry staple. However, it's also important to note that we also carry lab-grown diamonds if they're your preference. As diamonds go, believe it or not, the single most popular purchase are diamond earrings, a fine jewelry staple. They can be large or small - depending on your budget! Certainly that is also true for just about any fine jewelry piece you own. But it also depends on what size may be right for you. When it comes to earrings, in particular, you should actually consider the size of your earlobes. If they are small and petite, earrings may be uncomfortable to wear in a larger size. Large earrings can be made lighter, however, based on the metal selection. Fine diamond jewelry can be set in white, yellow, rose gold, and platinum. Interested in more information about various metals? Learn more here..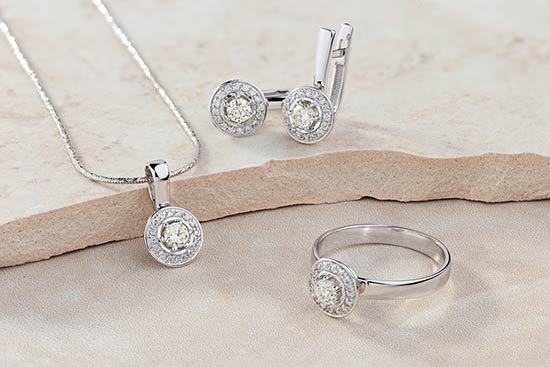 Fine jewelry designers we love. And, know you will too!
At Lewis Jewelers, you'll find a number of unique fine jewelry designers we proudly represent in our store. We pride ourselves on carrying designers you would normally only find in large, cosmopolitan cities. But, we also pride ourselves on selecting designers we know you will love. After all, we're here to serve your fashion needs, not ours!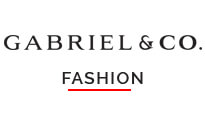 Gabriel is always at the forefront of fashion jewelry, as you can see with their incredibly popular Bujukan collection. We love them because they keep an eye on trends, they're affordably luxurious, and the quality is exceptional. With Gabriel, you'll find the perfect jewelry to celebrate virtually any occasion, or just because.
Over 1,000 hammer strikes are on every square inch of Gurhan's distinctively hammered 24K gold jewelry. Hand-crafting jewelry was Gurhan's vision from the very start and the unique 'look' of Gurhan's style comes from each loving strike of the hammer. Painstakingly hand-crafted in Istanbul.
In 1996, founders Glenn and Susan Rothman created the world's first branded diamond with Hearts On Fire. As a result of their patented cut, a diamond's surface area is increased and light is reflected through the top for brilliant fire, resulting in unbeatable brilliance. Only a tiny fraction of one percent of the planet's diamonds can be cut in the Hearts On Fire style. For diamonds that catch your eye from across the room, count on Hearts On Fire.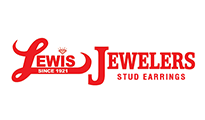 Diamond stud earrings are classic pieces of jewelry no woman should be without. Whether you prefer your diamonds dainty or distinctive, you can't beat the 3-prong martini-style settings you can find at Lewis Jewelers.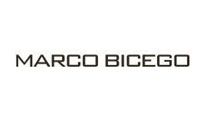 In Marco Bicego designs, long traditions of Italian craftsmanship meet with international inspiration, handmade warmth, and an outré sense of creativity. Here at Lewis Jewelers, we're pleased to be able to bring Marco Bicego jewelry to our customers, and with every type of fashion jewelry represented by numerous collections and styles, we know that you're sure to find the right piece to dazzle your sensibilities.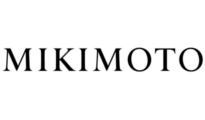 Mikimoto is known as the original curator of cultured pearls. In 1893, Mikimoto was founded by the innovative Kokichi Mikimoto, who dared to dream about jewelry made from only cultured pearls. After he successfully made the world's first cultured pearl, he began to dream bigger. Today, his company focuses on creating elegant cultured pearl jewelry that elevates the inner beauty of every woman. From refined minimalist pieces to effortlessly gorgeous everyday styles, each Mikimoto design is a love letter to the woman who wears it.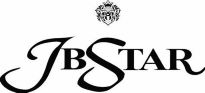 JB Star is about passion, dedication and striving for excellence. The history of JB Star began in 1946 when Rafael Fouzailoff's father became one of the largest and most respected manufacturers of loose diamonds in Israel. Rafael followed in his father's footsteps when he founded JB Star, a premier luxury jewelry manufacturer, established in New York City in 1979.
JB Star jewelry is meticulously designed and handcrafted by New York's finest artisans using the latest finishing technology. The highest quality is ensured when each individual piece is carefully inspected and analyzed, then signed and numbered for authenticity. 
Beautifully crafted jewelry creates romance and dreams forever and JB Star pieces are sure to be cherished for life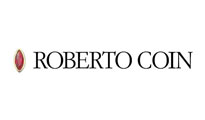 The quintessential Italian fine jeweler since 1977. Creator of sophistication, blending modernity and tradition, every single design is created with absolute freedom to magnify beauty and personality of those who wear it. Roberto Coin signs each one of his pieces with a small ruby casted inside the jewel, in direct contact with the skin of who wears it. This magical signature, surrounded by an antique halo of legend, represents the message of good wishes that Roberto Coin dedicates to his passionate clientele.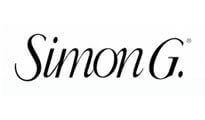 You have a lot of options to consider when shopping for Simon G. jewelry. Each collection features its own unique style and theme. Whichever collection you choose, Simon Ghanimian's designs will capture your eye and your heart. They will inspire with their beauty and impress with their quality. To find the perfect blend of elegance and originality and add pieces to your collection that can't be found anywhere else, look no further.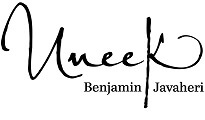 Our love for Uneek is as vast as the pieces they offer. Whether you're looking for standout and stunning diamond fashion pieces, trending stackable rings, or truly breathtaking colored gemstone jewelry, you'll find it all with Uneek's amazing designs. MENS FASHION JEWELRY Fine jewelry is not just for women. Throughout time, men have also adorned themselves with fine jewelry. Today's men are no different, and we're excited to offer fashion-forward and classic styles to fit every man's personality and style.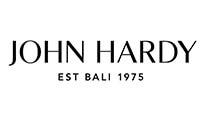 A truly distinctive jewelry style influenced by John Hardy's experience in Bali that men love wearing. From the Classic Chain, where we can see the true complexity and beauty of the Balinese tradition that inspired the designer, to their bold and masculine Legends collection in bracelets and cufflinks, John Hardy designs are sure to stand out.
Edgy, cool, and urban are three adjectives we use to describe the John Varvatos aesthetic. Featuring motifs such as skulls, feathers, and wings, and crafted in sterling silver, this look is bold beyond doubt.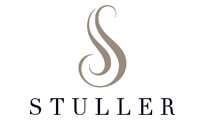 If simple style is your taste, you'll find it in a Stuller ring. Our selection ranges from tough tantalum to refined 14K gold styles.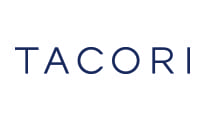 Tacori's luxurious style extends to men's fine jewelry, such as elegant cufflinks and tie bars to money clips and bold rings. Express your own signature style with Tacori's extensive collections.
What's on-trend.
At Lewis Jewelers, we love the core classics that are always uniquely fashionable. This includes our own Lewis diamond stud and hoop earrings, everyday diamond pendants, and diamond eternity bands. But, if you are looking for what's currently trending, we certainly carry that too! Therefore, here's a glimpse of what you might want to consider in your jewelry wardrobe: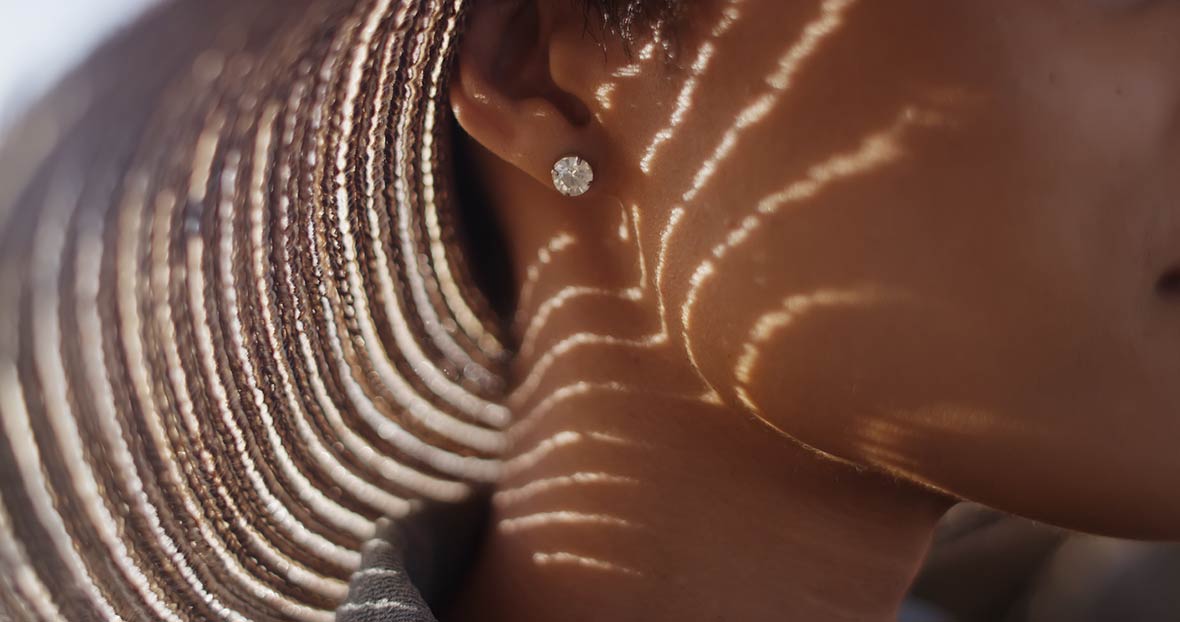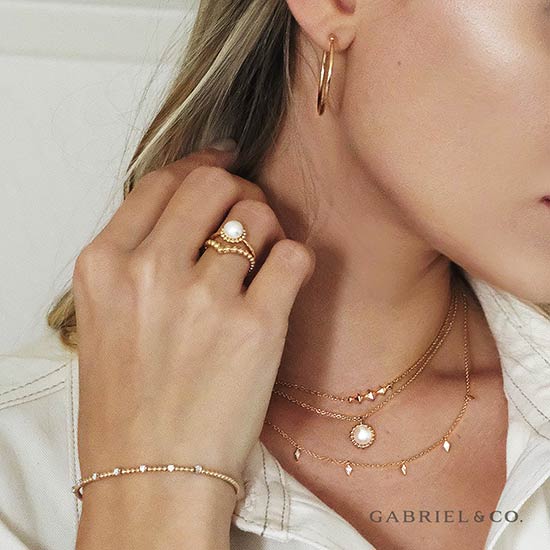 Stacks and more stacks.
We've seen stackable bands take center stage for the last few years, including diamonds and colored gemstones, and in several different metals. Create stacks and layers for your fingers, arms and neckline. Start with your own fine jewelry and add bands, necklaces, and bracelets from Gabriel , then venture into some that make a glittering statement by Tacori . You can even create the illusion of stacked pieces with certain styles that are multi-layered within one piece of fabulous jewelry.
Playful colors.
Colored gemstones have always been an important part of several collections here at Lewis Jewelers. But, the popularity of colored gemstone jewelry really started to pick up steam in 2018, and continues to do so for fine jewelry trends. Luckily we carry collections by the fabulous Marco Bicego and Tacori, both contemporary designers.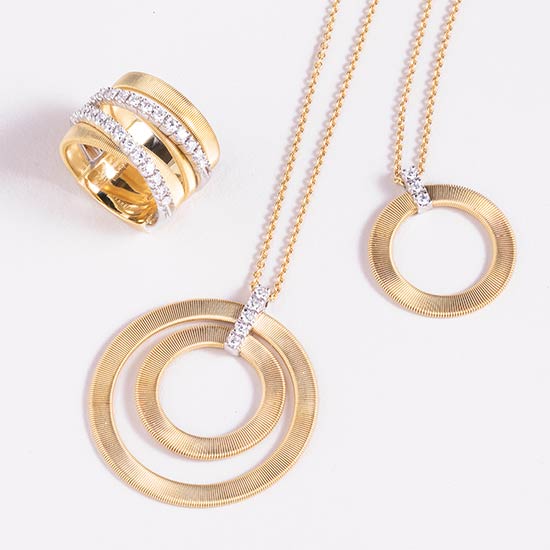 Seeing yellow.
Yellow gold was once a staple in classic jewelry and then it fell out of popularity for quite some time to its white gold counterpart. We're excited yellow gold is back in style, and interest in it has been growing over the last few years. We love the artists that are adding texture to the richly colored gold metal, and the finish is exceptional, like those you can find in our Gurhan, Marco Bicego, and Gabriel fashion pieces.
Caring for Your Fine Jewelry
It's a nice feeling to own, wear, and cherish fine jewelry. But, it also needs some occasional TLC, and at Lewis Jewelers, we have a few tips to keep your jewelry in perfect condition.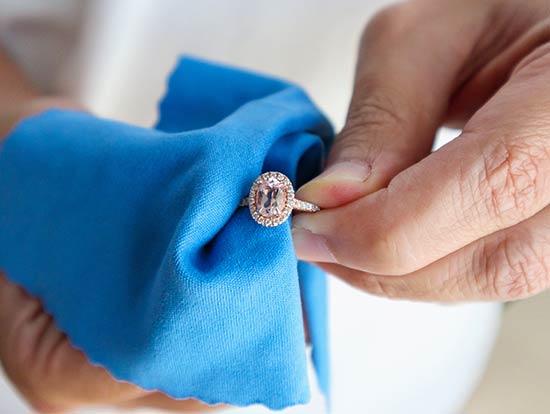 It starts with taking inventory.
Take out that jewelry box and take note of everything you own. You might actually find some treasures you haven't worn in a while! But, you also might find some treasures you no longer love. Separate those and store them properly (more about that below) and consider what you might like to do with them. Perhaps it's time to turn something you no longer wear into something you will! Contact us and we'll set a convenient time to chat about custom design or gold and diamond buying.. While you're taking inventory, check to make sure you have an up to date appraisal.. Fine jewelry will change in value and regular appraisals are a way to ensure the value is current if it's lost or stolen.
Want more education on lab grown diamonds? Visit this page.
You can find a gemstone care guide here for advice on what gemstones you can clean safely.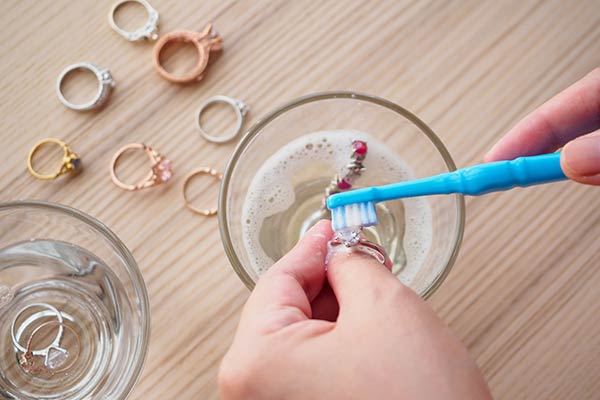 The Safest Cleaning Methods Are Easy!
Most colored gemstones and diamonds can be cleaned with warm water, mild dish soap such as Dawn (no detergents) and a soft brush. Soak your jewelry in a small bowl. Pearls are considered a softer gem that can be scratched easily. Clean your pearls in warm, slightly soapy water, with a very soft brush. Rinse thoroughly and lay your pearls to dry on a towel or chamois. Since silk thread will stretch, it's best to let the pearls sit until the strand is completely dry. Vintage and antique jewelry should be handled delicately and can be cleaned with just water and a soft, lint-free cloth.
Have an electric toothbrush with pulsed water? That can be great to use as well, along with a soft, lint-free cloth.
Rinse your jewelry in a glass of water to remove cleaning solutions since you risk losing loose stones - or even an entire piece of jewelry - if you rinse directly in the sink. And, for safety's sake, if you're cleaning your jewelry over a sink, be sure the drain isn't open!
Let it dry. After that, you can also polish carefully with a lint-free cloth.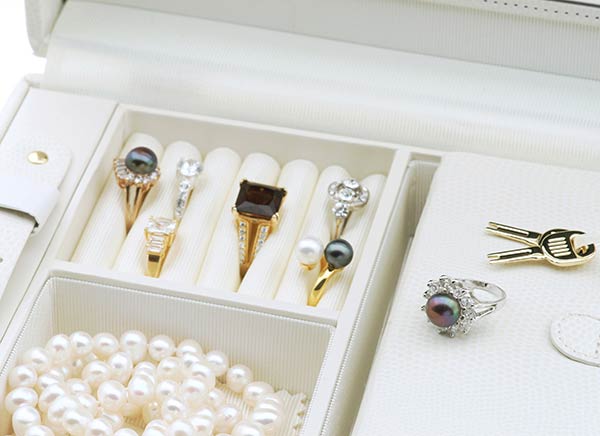 Storage made simple.
Fine jewelry should not be tossed into a drawer or left on the top of your dresser. If you do that, you can expect to damage those precious gemstones and scratch your metals. Most fine jewelry pieces come in a box or pouch from our store. Of course, you can feel free to use those as your storage. But, a jewelry box that features individually padded slots for rings and posts for hanging necklaces and bracelets might be the best option. Plus, you'll be able to easily pick the pieces you want to wear without having to open separate pouches or boxes.
Sterling silver should be kept in an anti-tarnish bag or cloth.
Diamond jewelry is delicate and can scratch easily. When you store it, keep it separated from other jewelry pieces. A fabric-lined jewelry case with individual compartments is ideal, but you can also keep them in their own pouches or wrapped in tissue paper or soft fabric.
Gold chains can tangle quite easily. Always store them on a flat surface to avoid tangling.
Pearls or opal gemstones will draw moisture from the air, so make sure to store them in a dry area!
Most important: Keep your jewelry away from any chemicals!
Chemicals can damage or discolor precious metals like gold, silver, and platinum and may harm some colored gems. Everyday items like hairspray, lotion, perfume or other cosmetics can contain chemicals that will permanently damage the surface of your pearls and other delicate gemstones.
Remember, your jewelry is precious. While it's great to do some in-home spa treatments to clean them, just remember your fine jewelry should still be checked every six months at our store and cleaned frequently.
For more information on Jewelry Safety Tip follow this link.