Level Up Your Timepieces With Coordinating Jewelry
March 15th, 2023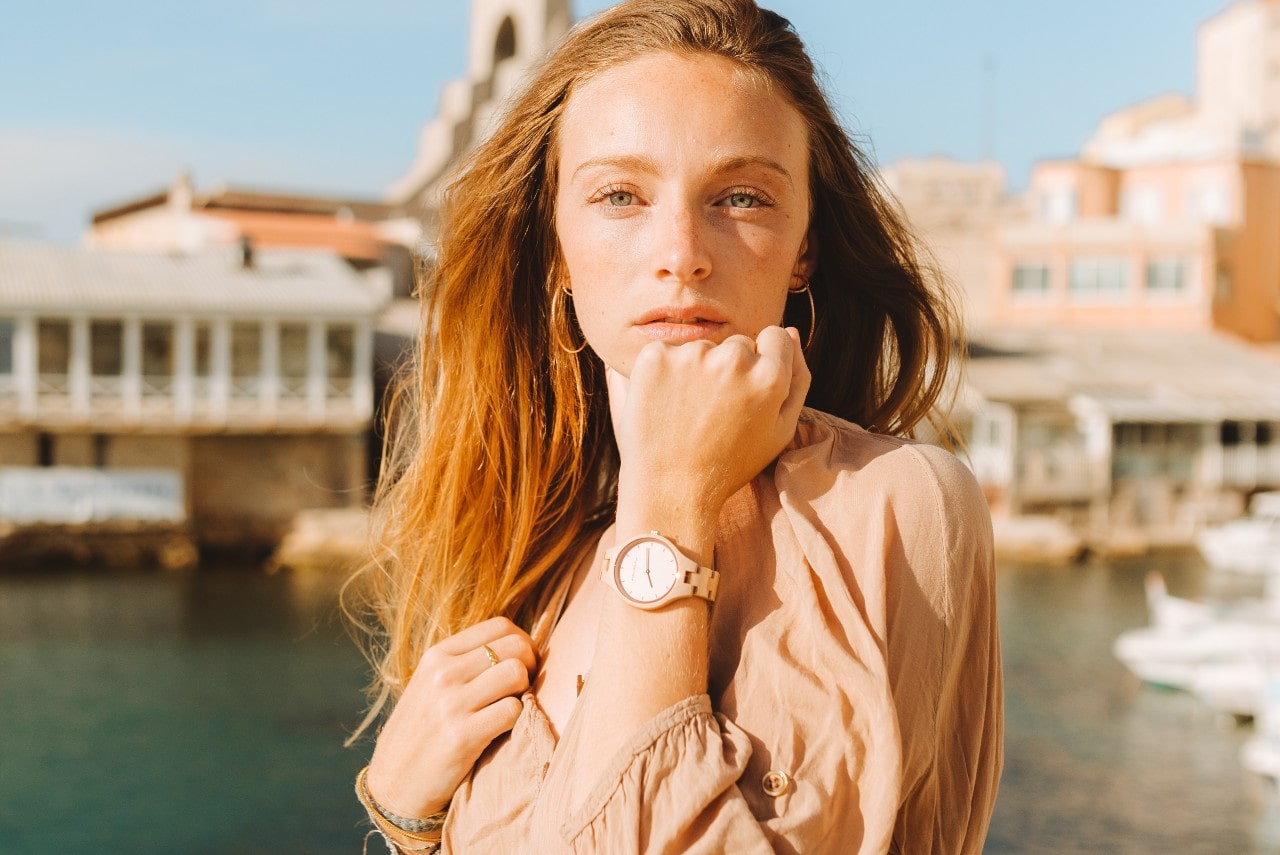 Timepieces are a universal symbol of success, with luxurious craftsmanship and breathtaking beauty produced from the finest names in the watchmaking industry. However, when you are attending a formal event, you may desire to style your favorite timepiece in a more voguish fashion. Fortunately, our experts at Lewis Jewelers have compiled this list of our favorite ideas to help you style designer jewelry with your cherished timepieces.
Fit For Royalty
Diamonds are a girl's best friend, and this glamorous watch from Omega's De Ville collection is no exception. Accenting diamonds hug the curves of the 18k yellow gold case, tastefully framing the bezel. The sleek roman numeral numbers add an extra touch of sophistication. This Omega timepiece is completed with a textured black leather band.
A diamond-adorned bracelet is perfect to transform this piece with extraordinary elegance. Additional diamonds will accompany the petite diamonds and create a more eye-catching glimmer with every move you make. Our staff adores this grand diamond bangle from Hearts On Fire. Together, these pieces are sure to dazzle the crowd.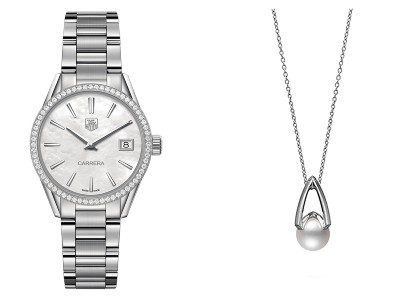 New & Improved Pearls
When you think of pearls, usually your grandmother comes to mind. However, modern designers have updated pearls and revamped them into contemporary accessories. Even this women's watch from TAG Heuer features a Mother of Pearl dial for a refined feminine aesthetic. A diamond-embellished bezel frames this, bringing out the subtle shimmer of pearls.
Other pearl jewelry pieces will work perfectly to accent this timepiece, whether modern or vintage. Bracelets are a more intimate pairing, but incorporating pearls into your entire look using necklaces and earrings produces a more put-together appearance. This minimalist pearl necklace from Mikimoto is an ideal piece to accomplish this with.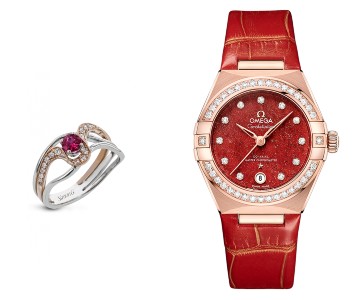 Runway-Ready Reds
Many watchmakers have embraced vibrant colors in their designs. This is a delightful way to immediately be in the center of attention. Consider this vivid watch from Omega's Constellation collection. This watch showcases a matching scarlet red dial and leather band with an exclusive 18k sedna gold case.
No matter what vibrant color you choose, gemstone jewelry is perfect to pair with these brilliant timepieces. For this piece specifically, rubies and garnet gemstones are a classic choice. This fashion ring from Simon G.'s signature SG collection features a round-cut ruby tangled up in white gold and rose gold shanks. Pair this accessory with it for a jaw-dropping look.
Mix It Up
Mixed metal designs have surged in popularity in recent years, and this chic trend has unavoidably made its way into the hearts of timepiece collectors. TAG Heuer excels in crafting lovely designs that artfully combine gold and silver hues, as seen in this elegant women's timepiece from the Aquaracer collection.
This watch would pair well with either silver or gold jewelry, depending on your individual preference. Even though many favored jewelry designers have created impressive designs that feature mixed metals, it is important to stick to one type of metal per accessory to avoid visual clutter. We love these gold drop earrings from Michael M to perfectly accent this timepiece.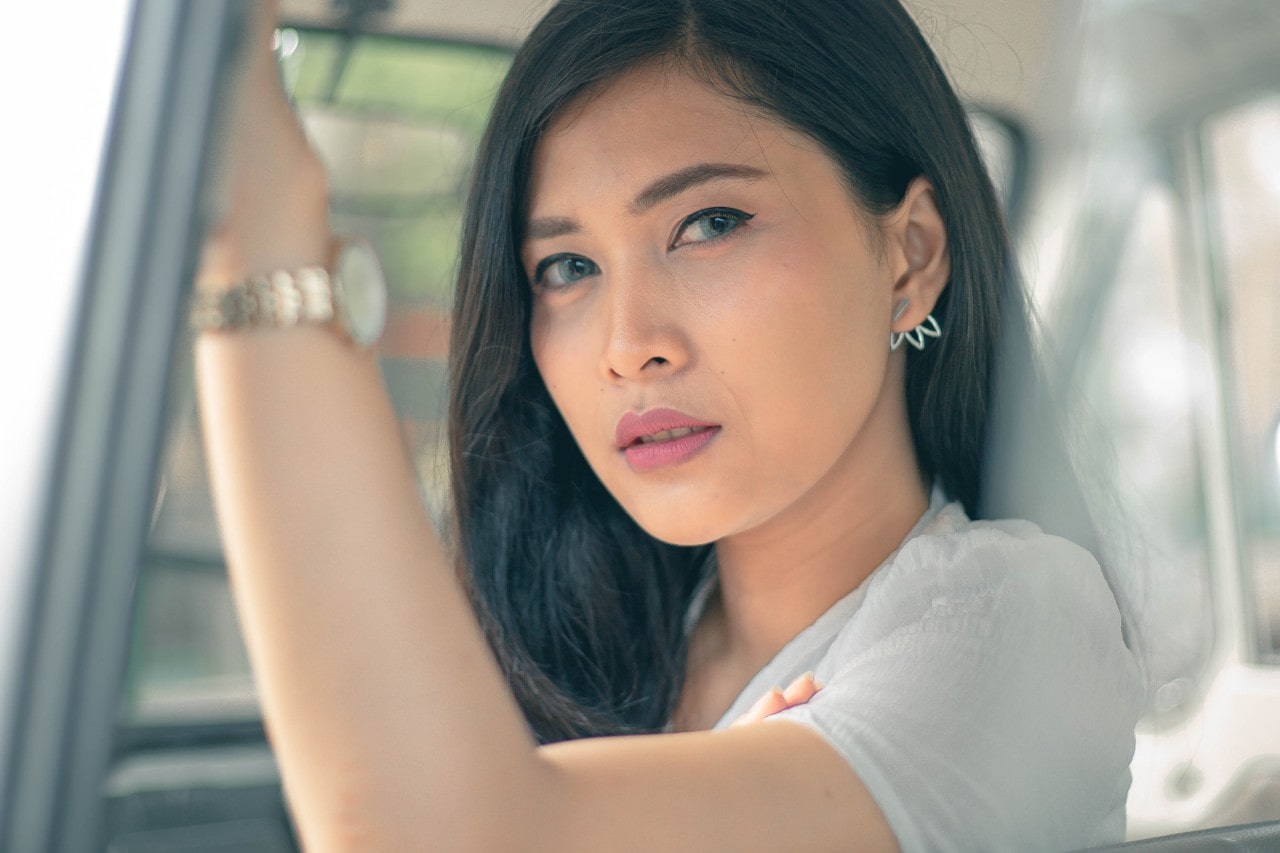 Shop Timepieces & Fine Jewelry at Lewis Jewelers
With over a century of experience serving the southeast Michigan community, Lewis Jewelers is proud to be your choice destination for all of your jewelry needs. Whether you are searching for a gift for a loved one or indulging in a special treat for yourself, our professionals are happy to guide you through our timepiece and jewelry selections from first-class designer brands. Schedule an appointment at our Ann Arbor showroom or call (734) 994-5111 to speak with a staff member today.