Layered Necklaces: The Fall Jewelry Trend that Makes a Huge Statement
October 2nd, 2019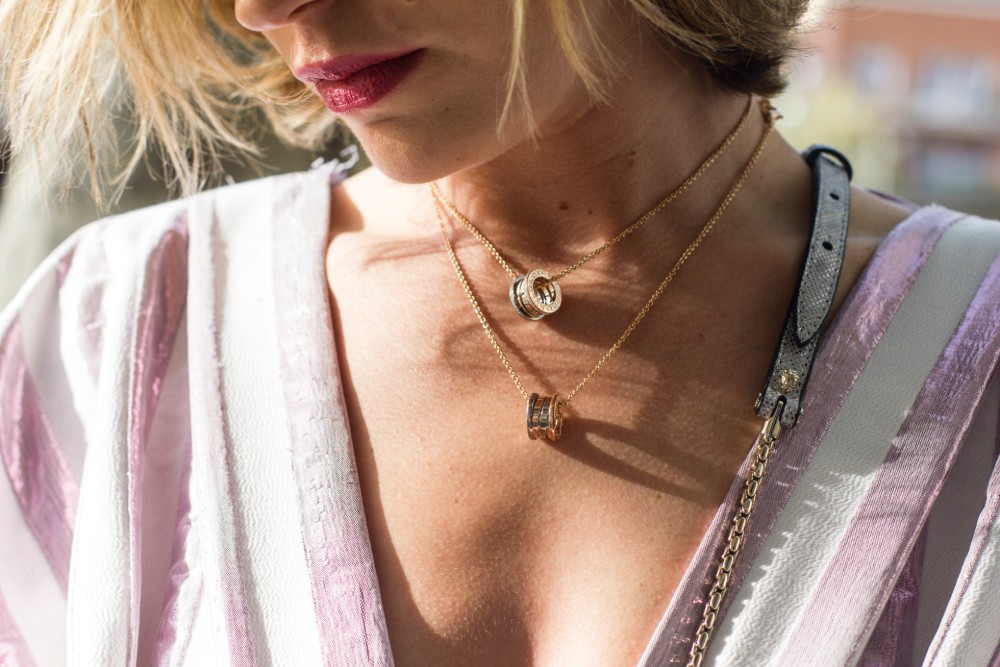 As summer transitions into fall, it?s time once again to transition your wardrobe and accessories as well. One fall trend that you?re sure to see everywhere this year is layered necklaces. It?s a style that?s been building for several years but is more popular than ever. You?re going to want to get on board, because layering necklaces is one of the simplest ways to make an outfit pop!
A Quick and Easy Trend You Can Put Together Anytime
A layered look happens when you take multiple necklaces and wear them at the same time. Three is usually a great rule of thumb, as is making sure each necklace is a different length (short, medium, and long) to create a cohesive look. This ensures that each necklace stands out and doesn?t tangle with another one.
Layered necklaces are a great way to dress up a plain tee or casual outfit. A solid-colored shirt makes a great backdrop for just about any set of chains. The trend is designed to be quick and easy. But if you want to make a statement, here are a few tips on how to really make the layered necklace look work for you.
5 Tips on Making Layering Work for You
In addition to the rule of three, mixing chain styles will create some additional layers to your look (pun intended). For example, something delicate and short, something thick and heavy, and something long with a big pendant or even a lariat for extra length.
Another tip: stick to one metal. Mixing metals is great in something small like rings, but can be a bit chaotic when it comes to layering necklaces. So if you?re feeling some yellow or white gold for your outfit, stick with it all the way through!
Don?t be afraid to embrace color. If you have a favorite diamond pendant, start with that and then add in some gemstones. TACORI is a great brand for adding a unique gemstone necklace to your collection. High-low is a great strategy, too. Wear your diamond necklace, but not every layer has to break the bank! Enamel necklaces can add the perfect pop of color.
A common design element in each necklace helps tie a look together. One example is choosing necklaces that all feature a similar shape. Pair an initial disc necklace with an oval locket and a big round pendant. Check out these designs by Michael M for some bold shape ideas.
Go simple with the rest of your jewelry. You?ve already got a lot going on around your neck! Adding statement earrings or big, chunky rings will just detract away from your look.
Start Your Layered Necklace Collection Now with Lewis Jewelers
Looking to get your layered necklace collection started? Head into our Ann Arbor store for expert advice and the latest designs. Our team will help you find exactly what you?re looking for. And they don?t work on commission, so you?ll never feel pressured to buy anything!
If you?re not in the area, that doesn?t mean you can?t shop with us! Our online store has hundreds of necklaces waiting for you, and we?re always available to chat. Start your search now!