Our Favorite Oval Diamond Engagement Rings
June 28th, 2017
One of our all-time favorite diamond shapes, oval cut diamonds are the perfect choice for engagement rings because of their simple, different, stylish, and timeless design.
With their popularity on the rise, some of today?s top bridal jewelry designers have created a wonderful variety of oval engagement rings in a variety of halo, solitaire, three stone, and side stone styles, all of which feature a fabulous array of high quality precious metals.
So, to help find the perfect oval cut diamond engagement ring for any bride-to-be, we at Lewis Jewelers have put together this list of our favorite oval cut rings available in our state-of-the-art Ann Arbor, Michigan showroom. Check it out below!
1. TACORI RoyalT Engagement Ring
The California-based designers at TACORI never cease to amaze us with their ability to constantly create engagement rings that are innovatively designed and of an immaculate bridal beauty. Not only are the artisans at TACORI creative, they are also committed to using only the highest-quality precious metals, and are committed to creating pieces sure to last a lifetime.
This particular oval cut engagement ring (model #HT2652OV9X7Y) is one of our favorites from TACORI?s wonderful RoyalT collection. Made with 18-karat yellow gold and featuring an oval diamond center stone surrounded by a brilliant diamond halo, the beauty vintage-style is enhanced by an intricate cathedral setting that creates sparkle and glamour on all angles of the ring. This ring would be perfect for the modern-day woman with a simple style and great taste.
2. ArtCarved Vintage Engagement Ring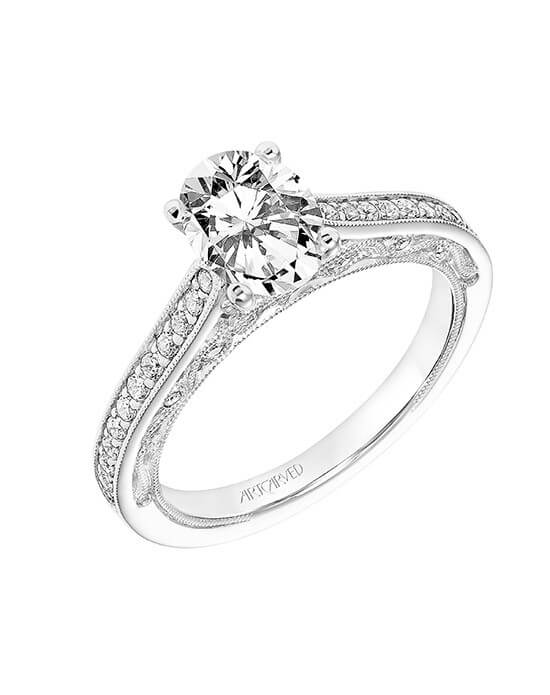 This solitaire oval engagement ring by ArtCarved (model #31-V762GVW-E) is a favorite at Lewis Jewelers because of its dazzling detail, floral-inspired filigree, diamond accents, and bead work that spread below and alongside the ring itself.
Although solitaire rings are known for their simplicity they should never be confused with being boring, especially with examples like this beauty. This ArtCarved ring is from their popular Vintage collection and is made with 14-karat white gold with all diamonds set in prongs. Beautiful at every position, future brides will love to show off this sparkler on their hand.
3.Michael M Europa Engagement Ring

Michael M has become one of the fastest growing jewelry designers based out of Los Angeles today. Taking inspiration from Hollywood glamour, all Michael M jewelry pieces reflect the vintage dreams of La La Land, while utilizing new jewelry making techniques and styles for a truly unique bridal experience.
This particular oval engagement ring from Michael M?s Europa collection (model #R689-2) is the perfect example of oval ring superiority because of its double halo around the oval center stone, which echoes the art deco style of the 1920s. Made with 18-karat rose gold for that pink undertone and cradles its diamond center stone in a prong setting, this ring is truly beautiful choice for any glamorous bride-to-be.
4. Stuller Three Stone Engagement Ring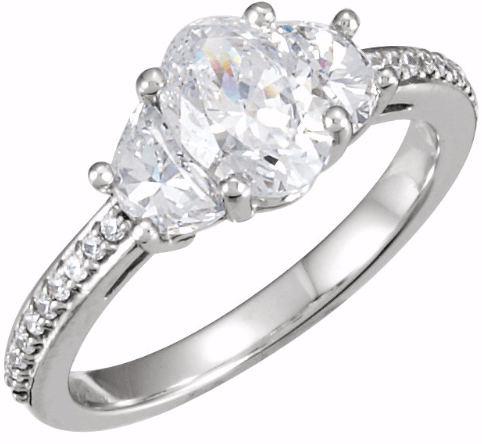 Only one diamond is enough, said no one ever in the history of the world. This three-stone engagement ring by Stuller (model #121633) is wonderfully-adorned with an oval center stone, two baguette cut side stones, round cut diamonds in a prong setting on the band, and built with 18-karat white gold.
Not only is this ring dripping in diamonds, but its elegance and sophistication is what every future bride desires. For an oval cut diamond engagement ring that is sure to bring more than an eternity of satisfaction to any bride, look no further than the engagement rings of Stuller.
Visit Lewis Jewelers Today for More Oval Cut Diamond Engagement Rings!
For more information on any of these spellbinding oval cut rings, call us at 877-885-3947, visit LewisJewelers.com, or visit our wonderful showroom in Ann Arbor, Michigan today to see more of our favorite designer oval cut rings.