Designer Spotlight: ArtCarved
April 20th, 2017
Since 1921, Lewis Jewelers has been Ann Arbor?s go to, full-service jewelry store. We provide the best quality, and an enormous quantity of bridal jewelry and fine jewelry in the area. Let one of our experienced and friendly staff help you find the jewelry item of your dreams!
Our commitment to you ensures that you can shop with confidence knowing that what?s in our galleries is authentic designer jewelry from Forevermark, Michael M, Tag Heuer, Hearts on Fire, Simon G., and many others including the illustrious ArtCarved.

The History of ArtCarved
Started as a family enterprise, ArtCarved was founded by J.R. Wood and his sons in Brooklyn, New York in 1850. Using his expertise and innovative skills, Mr. Wood specialized in diamond engagement rings, wedding bands, and stackables.
While pursuing new, ingenious methods of craftsmanship, Wood developed the first seamless wedding ring. This new adjustment to the traditional form of the wedding band provided ultimate comfort to the wearer.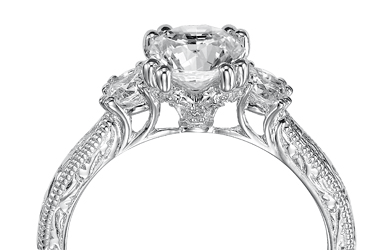 In time, Mr. Wood and his sons found their iconic look in seemingly ?carved? sensations. Engagement rings from ArtCarved are embellished and adorned with the most beautiful milgrain, vintage designs and with such a selection are sure to meet all the expectations of young brides-to-be.

Historical Distinction
With over 150 years of fine jewelry making, ArtCarved was quick to make its mark in the history of the jewelry industry. Interestingly, during wartime ArtCarved was the only jewelry company allowed by the government to make wedding rings.
From there, the importance of blissful love highlighted by wartime passions helped ArtCarved bring to prominence the dual ring ceremony. Their dedication to marital unions has continually inspired them to make exceptional artful pieces.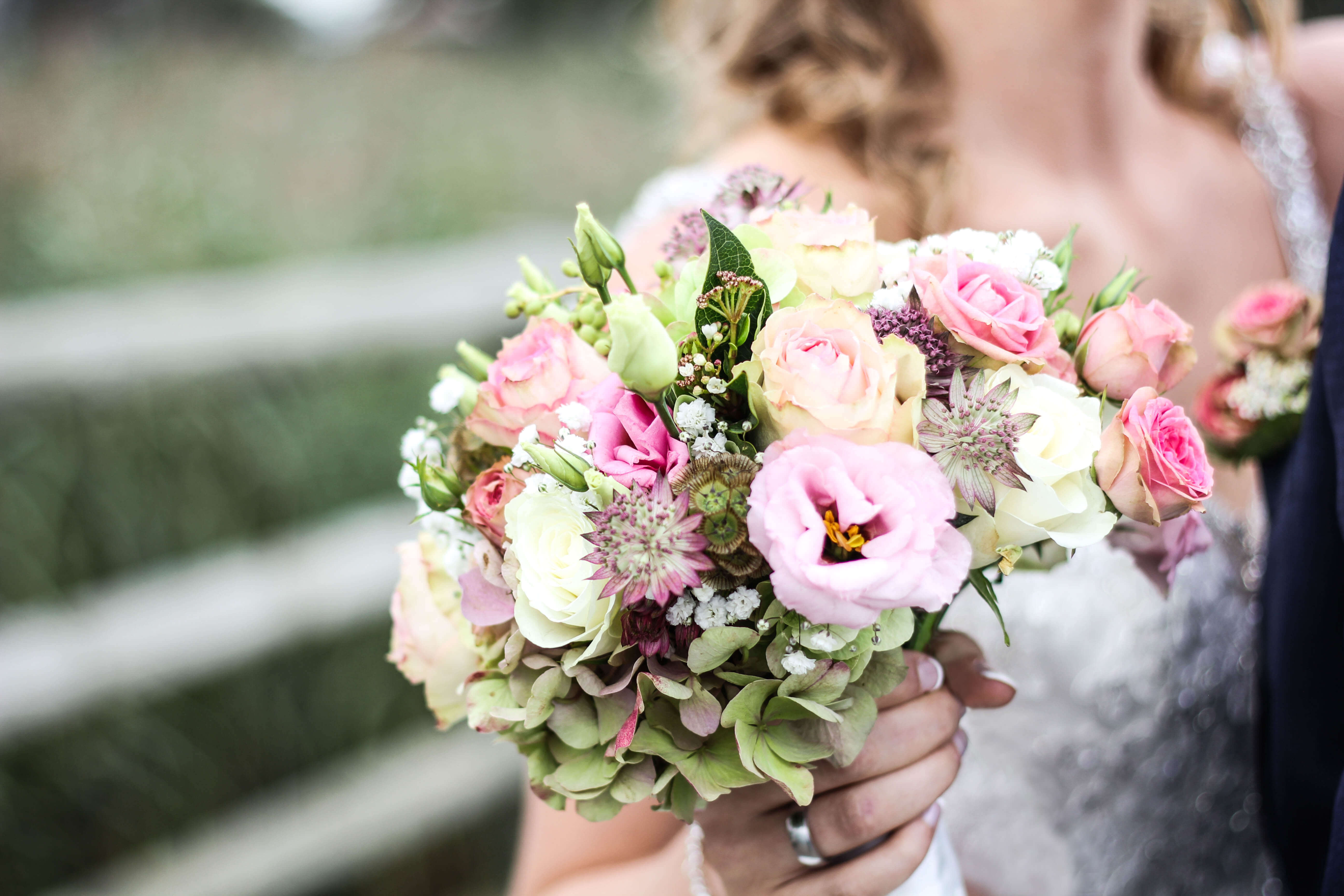 Bridal Jewelry
Pleased to meet the demands of current bridal jewelry, Lewis Jewelers presents a large inventory of wedding bands and engagement rings from the premium quality artisans at ArtCarved.
Engagement Rings
For brides-to-be, ArtCarved has designed a dazzling array of engagement rings to last a lifetime. Lewis Jewelers is proud to carry their three stunning collections including Classic, Contemporary, and Vintage.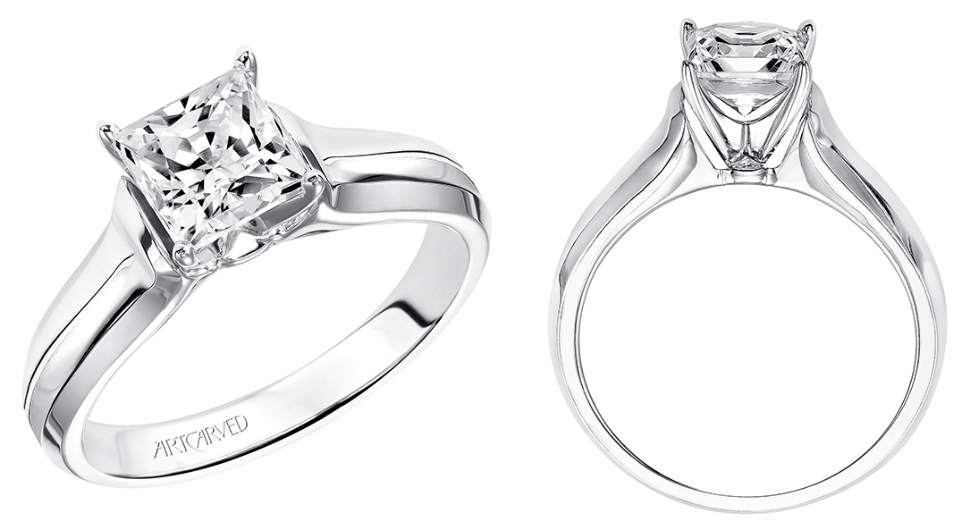 Classic
True to its name, the rings in the Classics collection showcases traditional variations of solitaires and three-stone rings with modern twists. Complete with lifetime warranty (included in all ArtCarved engagement ring purchases) this stunner features a princess cut center diamond with a prominent prong setting and a clean band with a sleek engraving. Others in the collection have round cut center stones with halo and pave settings.
Contemporary
The Contemporary looks from ArtCarved include that fine attention to detail prevalent in their designs and lovely band architectures. The engagement rings in the collections are luxuriously modern but have touches of classical sensibilities including the floral designs and milgrain settings. Rings also have the collection distinction of coming in two-tone, elegant rose golds, and rope and twists style bands.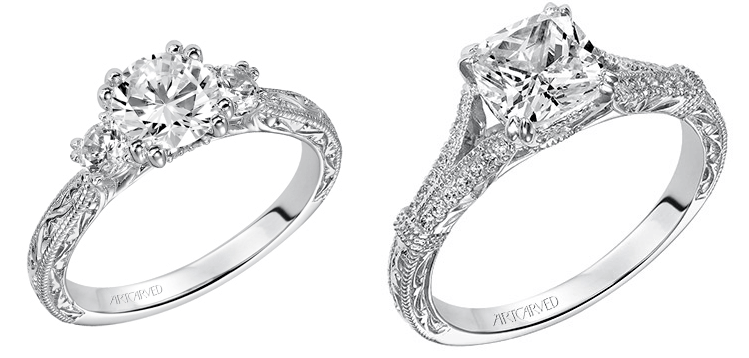 Vintage
The Vintage collection demonstrates the phenomenal craftsmanship from the artisans at ArtCarved. Rings in this designer collection feature an extensive amount of adornments and band embellishments. The delicate filigrain, miligrain, and other intricate detailing makes an ArtCarved engagement ring stand out from the crowd.
Wedding Bands
Showing equal effort in their attention to detail and unique approach to design, ArtCarved wedding bands are unmatched in quality. ArtCarved creates wedding bands for both men and women and shows no limitations in types of designs for rings for men and for women.
For men collections include Engraved, Classic, Contemporary, and Vintage and for women, the bands can be selected from their prestigious Classic, Contemporary, and Vintage sets.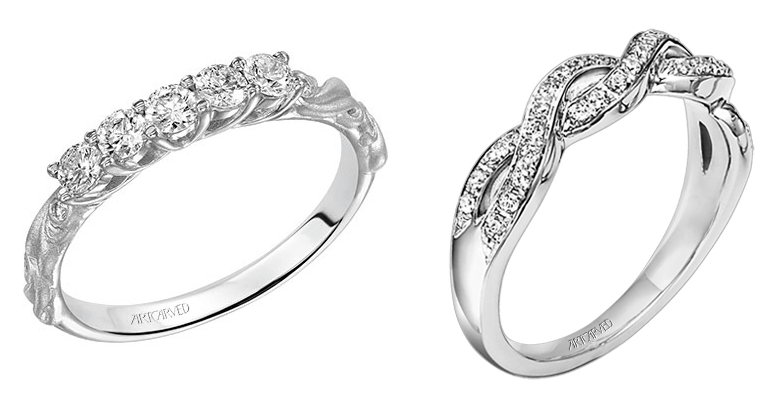 Couples can shop with ease as ArtCarved?s collections make it clear to choose between general groupings. Brides and grooms can shop together or shop individually when it comes to selecting from ArtCarved?s large selection of wedding bands.
Visit Us!
Curious to find out more about ArtCarved?s wonderful selection or would you like to learn more about any one of our other designer names? Give us a call at 877.885.3947, visit our ? Contact Us? page to send us to schedule an email, or better yet, visit us in person at our Ann Arbor, Michigan store. We would love to see you!